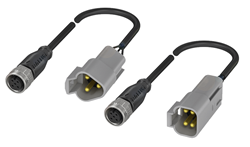 FLORENCE, Ky. (PRWEB) October 23, 2020
Balluff's new double-ended converter cables with automotive style connectors create new options for manufacturers in the heavy equipment industry.
By pairing an M12 to Deutsch DT or AMP Superseal connectors with several common pin outs, the converter cables give manufacturers the option of using sensors without pre-installed automotive style connectors. They can, instead, select the standard sensor that best meets their application requirements to use with a converter cable.
"Selecting the proper sensor for off-highway mobile equipment is a critical design step for safe and efficient operation. Off-highway equipment manufacturers require environmentally sealed automotive style connectors to meet their unique needs, but most sensor offerings come only equipped with an M12 threaded connector," said Rob Crumley, Balluff industry account manager. "These converter cables eliminate that issue and make it possible for manufacturers to choose the best sensor for the application based on its capabilities, not only its connector."
The converter cables are rated for 5 million flex cycles and come with IP67, IP68 and IP69K protection ratings. The cables utilize PUR jackets, making them resistant to most oils, gasoline, degreaser solvents, and other common fluids found on mobile equipment. PUR jackets also greatly improve low temperature flexibility, resistance to the environment, and oxidation protection.
Sensors used in mobile equipment must have the right properties for the job at hand without compromise. Balluff's converter cables make it easier to find the best sensor for the application.
Key features:

One sensor can be used in several applications by using cables of various lengths, pin-outs, connector styles.
No more design compromises! Choose the best sensor for the application.
A damaged cable is simple to replace. No need to remove the sensor, re-calibrate air gaps, readjust sensitivities, or re-align mounting brackets.
Other automotive style connectors available upon request.
Learn more at: http://www.balluff.com
About Balluff Inc.
Balluff Inc. is the U.S. subsidiary of Balluff GmbH, Neuhausen, Germany. Balluff is a leading supplier of networked IO-Link control system architectures that unlock the potential of the IIoT and Industry 4.0. Balluff offers a wide range of intelligent IO-Link and industrial Ethernet sensors in a variety of technologies including inductive, photoelectric, capacitive, and magnetic as well as magnetostrictive linear position sensors, magnetic tape linear encoders, industrial RFID systems, and industrial vision systems. Balluff provides cost-saving, process-enhancing solutions to machine builders and manufacturers to control, regulate, automate, assemble, position, and monitor manufacturing, assembly, and packaging sequences. Industries served include: automotive, packaging, food processing, beverages, tire, primary metals, conventional and alternative energy, semiconductor, plastics, and fluid power.