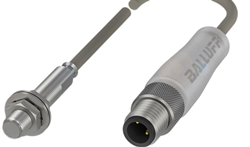 FLORENCE, Ky. (PRWEB) October 30, 2020
Balluff's newest family of 5 mm inductive sensors are designed to take the heat. Unique to the market, these miniature sensors are approved to operate at ambient temperatures of up to 135 °C.
Along with the high temperature resistance, both the sensor and the connector provide IP67 rated protection thanks to a new crimping technique we use to connect the silicone cables. This plus their stainless steel housing and ceramic face make them especially well suited for the hydraulic and semiconductor industries. They can withstand dynamic pressure of up to 10 bar and are available in both NPN and PNP normally open outputs with either an M8 connector or a cable out connection of up to 10 meters.
"These are a fantastic addition to the inductive family. Customers have wanted higher temperature inductives for some time and we've delivered," said Jack Moermond, Balluff engineering partner manager.
An LED in the connector gives easy visibility into the operating and switching state. The sensors are flush mounted, offer a .8 mm sensing range, and are available in housing lengths of either 27 mm or 42 mm.
Key features:

For operating temperatures up to 135 °C
Oil pressure rated up to 10 bar dynamic and 100 bar static
Ideal for hydraulic applications and in the semiconductor industry
LED in connector shows power and switching state
Sensor and connector both IP67
Learn more at: http://www.balluff.com
About Balluff Inc.
Balluff Inc. is the U.S. subsidiary of Balluff GmbH, Neuhausen, Germany. Balluff is a leading supplier of networked IO-Link control system architectures that unlock the potential of the IIoT and Industry 4.0. Balluff offers a wide range of intelligent IO-Link and industrial Ethernet sensors in a variety of technologies including inductive, photoelectric, capacitive, and magnetic as well as magnetostrictive linear position sensors, magnetic tape linear encoders, industrial RFID systems, and industrial vision systems. Balluff provides cost-saving, process-enhancing solutions to machine builders and manufacturers to control, regulate, automate, assemble, position, and monitor manufacturing, assembly, and packaging sequences. Industries served include: automotive, packaging, food processing, beverages, tire, primary metals, conventional and alternative energy, semiconductor, plastics, and fluid power.