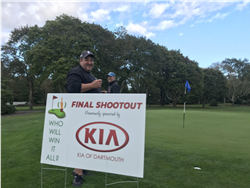 "We get to get together, have a good time and at the same time do something really good for the kids," David Moura, Owner and Chief Executive Officer
NEW BEDFORD, Mass. (PRWEB) October 15, 2019
The annual Richard A. Perry Golf Tournament presented by Sherwin-Williams and hosted by ProGroup Contracting was held on October 4th at the Country Club of New Bedford in Dartmouth, MA. The tournament, which has been ongoing for 14 years, helps raise funds for local charities and youth programs. This year's charity was the Specialized Education for All Learners (S.E.A.L.) Foundation. This foundation provides funding for specialized education in non-public school settings so that all children, even those who learn in different ways, can be afforded the opportunity to attend a school of their choice.
Learn more about The S.E.A.L. Foundation at https://thesealfoundation.org/
Over the course of this tournament's life, ProGroup Contracting has raised between $200-300K. In previous years, the tournament has raised funds for children in the NICU, youth sports, local schools and communities and many other charitable causes.
"It's always been about kids. That's the legacy that we'll all leave is kids, especially if we can help them with their education and learning. If we're providing kids with opportunities they wouldn't have otherwise, then even better," said David Moura, Owner and Chief Executive Officer of ProGroup Contracting.
Additional sponsors of this year's tournament included Benjamin Moore, CertaPro Painters, Behr Pro, The Home Depot, ESP Solutions, Inc., Pepper Gang Digital Marketing, KIA of Dartmouth, ServiceMaster by Gilmore, Superior Logos Inc., Peroni Financial Group and many more.
This year's tournament helped raise $25K in donated funds. The day's events were comprised of a golf tournament with 45 competing teams, a pink ball contest, a marshmallow drive contest, a helicopter ball drop, a final shootout contest, raffles, a silent auction and an award ceremony.
To learn more about this initiative, contact sarah@progroupcontracting.com
About ProGroup Contracting:
Based in New Bedford, Massachusetts, ProGroup Contracting is a national painting and renovation business serving commercial and residential properties for over 25 years. Specializing in interior and exterior painting, ProGroup Contracting also offers power washing, surface repairs and complete renovation services. For more information on careers and services offered by ProGroup Contracting, visit http://www.progroupcontracting.com