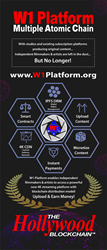 The speed and clarity at which film, TV and music streams on the W1 Platform is nothing like anything we've seen before.
HOLLYWOOD, Calif. (PRWEB) November 06, 2019
"With a fast growing audience, the W1 Platform, and its advanced W1 MAC (Multiple Atomic Chain) blockchain network, allows filmmakers, producers, composers, musicians, talent, and gamers to secure their property rights and monetize content on the most advanced streaming platform," said Steven Nia, Producer and Chairman of the W1 Platform/Hollywood Blockchain and Wardour Studios™.
The architecture, design, and business model for W1 Platform originated from Hollywood based Wardour Studios. The innovations of W1 Platform creates the ultimate entertainment ecosystem, through which a community of hundreds of millions may enjoy and monetize Ultra High Definition (UHD 4K) streaming movies, programmed and live TV, music and concerts, sports, live events, catch-up TV, network recording, gaming, casting, as well as emerging VR/AR and AI based entertainment content.
"W1 Platform defines a new paradigm in the entertainment industry," said Nia, "by enabling an ideal entertainment business model for filmmakers and artists using Digital Assets, Digital Rights Management ("DRM"), Digital ID, and Smart Contracts, with implications far beyond streaming film and TV, and other digital content."
W1 Platform further empowers its community with peer-to-peer ("P2P") connectivity, allowing users to share social experiences, videos, and photos and enabling them to conduct sophisticated transactions of their own, based on their designated business model, all of which would be encoded in smart contracts.
"Scalability is one of the main issues in the entire blockchain industry, especially when it comes to the entertainment industry. The W1 Platform is an entertainment ecosystem that offers over 10M TPS and scales to the entertainment industry's requirements and standards, and responds in real time to the viewers. The speed and clarity at which film, TV and music streams on the W1 Platform is nothing like anything we've seen before," said Angelina Leo, Actress, Producer, and Chief Operating Officer of W1 Platform and Wardour Studios.
The American Film Market ("AFM"), W1 Platform/Hollywood Blockchain and Wardour Studios will be co-hosting a cocktail reception at Carousel Cocktails next to the Santa Monica pier on Friday, November 8, 2019 from 5:00 pm to 9:00 p.m. The cocktail and networking reception takes place at the historic Merry-Go-Round on the Santa Monica Pier and provides a unique and memorable experience as participants connect and relax at the beach.
To request a demo of the W1 Platform, or for more information please contact: W1Platform.org PR@W1Platform.org Tel: +1 310 551 9999.
About W1 Platform™ - The Hollywood Blockchain™
W1 Platform - The Hollywood Blockchain is an entertainment ecosystem based on the advanced W1 MAC (Multiple Atomic Chain) blockchain technology, and Smart Web 3.0 infrastructure. W1 Platform™ delivers ultra fast 10 Million TPS and secure performance, providing a highly sophisticated decentralized blockchain network for secure and accountable financing, production, and global exploitation of Films, TV, Virtual Reality (VR), Augmented Reality (AR), Games, Music and other entertainment content. W1 MAC is a highly scalable blockchain network, in fact, the first of its kind to enable real time blockchain applications, with the ability to host a wide variety of apps and to provide comprehensive blockchain and tokenomics solutions for projects or celebrities. See http://www.W1platform.org.
About Wardour Studios™
Wardour Studios is a state of the art, next generation, film studio, with solid artistic and advanced technology foundation. Wardour Studios is the ultimate digital studio, with expertise in the production and distribution of feature films, TV, visual effects, VR - virtual reality, AR - augmented reality, which is addressing and exploiting the emerging challenges in the global, and specifically in the Hollywood and China entertainment landscape. Wardour Studios continues to grow into a vertically integrated global content platform of increasing diversity, reach and scale. The Company's portfolio of assets includes film and television libraries, a world-class film business and an expanding global distribution footprint.
Wardour Studios' management has the mission of creating and evolving a truly next generation film studio, which is emerging as a leading global entertainment company, with a fast growing and diversified presence in the motion picture production and distribution, television programming, and advanced digital streaming platform, with global 4K Content Delivery Network ("CDN"). For more information please contact: Wardour Studios, PR@WardourStudio.com Tel: +1 310 551 9999
About the American Film Market®
The American Film Market (AFM®) is the world's largest motion picture business event. Over 7,000 industry leaders from more than 80 countries converge in Santa Monica for eight days of deal-making, screenings, conferences, networking and parties. Participants include acquisition and development executives, agents, attorneys, directors, distributors, festival directors, financiers, film commissioners, producers, writers, the world's press and all those who provide services to the motion picture industry.
The American Film Market is produced by the Independent Film & Television Alliance. More information on the AFM can be found at: AmericanFilmMarket.com.