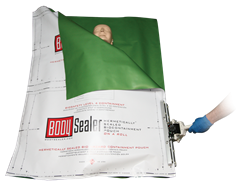 "In these extraordinary times, our specialized body bags can moderate the impact of this horrendous scenario and does not require the remains to be refrigerated. This can save hospitals many thousands of dollars and space"
MERRICK, N.Y. (PRWEB) July 27, 2020
It's happening again.
As the coronavirus gains steam and barrels into formerly barely-impacted areas like Arizona, Texas and Florida, it threatens to leave in its wake another macabre legacy–bodies piling up like they did in New York in April. Hospital morgues are filling up, and refrigerated trucks are being parked in hospital lots throughout the country to handle the excess remains.
Refrigerated trucks have their drawbacks: They're expensive to run. There's a finite number of them, and their capacity is limited.
Can this be avoided? A New York company may have the solution with their new, hermetically sealed body bags.
"In these extraordinary times, our specialized body bags can moderate the impact of this horrendous scenario and does not require the remains to be refrigerated. This can save hospitals many thousands of dollars on refrigerated trucks and space" says Irwin Maltz of Merrick, New York, one of the manufacturer's owners.
BodySealer, manufactured in the U.S., is an innovative biocontainment system rated Bio-Safety Level 4 (BSL-4) by the CDC and made of heavy-duty, flexible 3-ply material. It's lined with a metal foil that cannot be torn or ripped and is sealed along the edges with a heat sealer so nothing can enter, leak or escape.
"Our hermetically sealed bags are the best choice in situations like the COVID-19 pandemic," explained Maltz," though many hospitals have yet to know about them. They are used typically when infectious diseases are involved but can be used for all types of remains. Because they are airtight, there's no need for refrigeration. This can save hospitals, morgues and funeral homes a lot of money."
He noted that a sealed biohazard containment bag like BodySealer is far superior to conventional body bags and offers the utmost protection to frontline workers.
"Conventional body bags in conventional situations are usually fine," Maltz said. "However, the most common ones are made of lightweight plastic that can tear and allow odors to escape. Most have zippers that can break and leak. This makes them potentially hazardous to the people carrying them and unsuited for infectious remains.
"COVID-19 is causing all of the world to think differently about how to handle this health crisis of unprecedented proportions," continued Maltz. "BodySealer is a way to simplify one aspect of this, helps reduce costs and ensure that everyone stays safe."
END