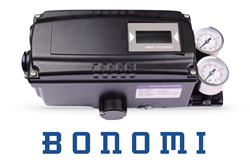 The SP series is very accurate, uses less air and allows for online digital diagnostics.
CHARLOTTE, N.C. (PRWEB) November 01, 2018
Bonomi North America has introduced a new digital smart valve positioner that provides precision automated ball valve control with the company's Valbia pneumatic actuators. Its durable design and NEMA 4X (IP66) enclosure make it ideal for harsh industrial environments. Advanced automatic self-calibration ensures optimal performance.
The Bonomi smart positioner uses a microprocessor to position the valve actuator while monitoring and recording data. It functions like an electro-pneumatic analog type positioner, except the electronic signal conversion is digital. The SP series is very accurate, uses less air and allows for online digital diagnostics.
Because of its compact size, the new Bonomi SP Series Smart Positioner can be used with virtually any size pneumatic actuator, single or double acting. The new unit provides continuous valve position control. HART® communication and 4-20 mA input are optional. If the input signal is lost, the valve will fail in place, remaining in the same position until signal is restored. An LCD screen with position indicator is built into the Series SP to simplify visual inspection.
For more information on Bonomi SP Series smart valve positioners or other Bonomi products, contact Bonomi North America at (704) 412-9031 or visit online at http://www.bonominorthamerica.com.
About Bonomi
Bonomi North America has served the U.S. and Canada since 2003 and is part of the Bonomi Group of Lumezzane, Italy. Bonomi Group brands include Rubinetterie Bresciane Bonomi (RB) brass ball valves and check valves; Valpres carbon and stainless steel ball valves; and Valbia pneumatic and electric industrial actuators. Bonomi North America maintains an extensive distribution network for these products from its headquarters in Charlotte, N.C. and a facility in Oakville, Ontario, Canada.