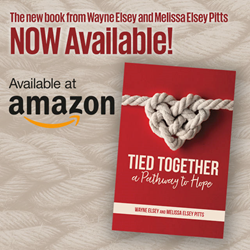 the hope of making the world a better place.
ORLANDO, Fla. (PRWEB) July 18, 2019
Wayne Elsey, the global businessman turned international philanthropist after joining the worldwide effort to help people in need in the aftermath of the 2004 Indian Ocean earthquake and tsunami has published a new book about hope. Elsey's latest book is titled "Tied Together: A Pathway to Hope," which was co-written by his daughter, Melissa Elsey-Pitts.
It was during the creation of the book that it took an unexpected turn, as Elsey explains, "I set out to write a book about how I was able to find hope and create ways to bridge the gap between people in need around the world and others who want to make a difference and social impact. When the book was almost completed, I asked people for a few words to include. What happened next was humbling. I had hundreds of people who wanted to contribute a few words in support of the work of my team and me, and also for the hope of making the world a better place."
Elsey continued, "After I saw the overwhelming response, I realized that the book had shifted, which was incredible because so many others became part of the story. And, it was then that I asked my daughter, Melissa, to help put into context what others had to say about creating a better world for others. Although parts of the book are about how I created a nonprofit, Soles4Souls, and then my social enterprises, including Funds2Orgs and Head2Toe Recycling, it's become much more than what I learned about all of those experiences."
"The book that I co-authored with my dad started one way and became the legacy of a person and so many others who want to leave the world a better place," said Elsey-Pitts. The book is about the journey of the Elsey family and others in creating a better world. It's a book of bold vision, humor, and a legacy for others to create their own destinies in shaping the world for the better.
This book is available on Amazon.
About Wayne Elsey
Wayne Elsey is the Founder & CEO of Elsey Enterprises. The company offers its services to social enterprises, nonprofits, and businesses looking to make the biggest social impact possible. It achieves this through Funds2Orgs Group, which is the most significant shoe drive fundraising suite of brands in North America, Not Your Father's Charity, SocialGoodU and CELG Freight. Elsey is also the founder and former CEO of Soles4Souls, a nonprofit that helped put millions of shoes on the feet of those in need in response to some of the world's largest natural disasters. Elsey has been featured on NBC Nightly News, Good Morning America, Today Show, & Fox News. He is also the author of Almost Isn't Good Enough, the Not Your Father's Charity book series and Get Off the Couch: Grip & Rip and Break the Barriers Holding You Back in Life. Elsey is available for interviews and speaking engagements.