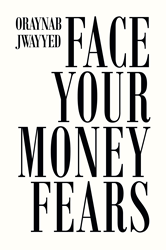 "I guarantee that a little commitment and persistence will get you to the financial freedom and peace of mind you have been seeking"
OKLAHOMA CITY (PRWEB) January 05, 2023
Years ago, Oraynab Jwayyed was a financial literacy consultant using both her personal experiences and professional expertise to write essays that explain how to navigate finances in an everchanging U.S. political system. Now, she is sharing that guidebook with the world.
In 2010, Jwayyed started blogging, to reach out to women who needed to learn how to budget their money.
"I discovered it [blogging] was the best way to throw myself out there and put lessons and experience to virtual paper," Jwayyed said. "The internet is the fastest, most economical, and easiest way to reach out to the masses."
"Face Your Money Fears", avoids finance jargon and directly provides tips and methods to women on wise spending, saving for retirement, and investing in securities. Jwayyed also addresses political topics, like child tax credits, unequal pay for women, and universal healthcare.
The book also has Jwayyed's eight-step guide for keeping finances healthy.
"I guarantee that a little commitment and persistence will get you to the financial freedom and peace of mind you have been seeking," Jwayyed said.
"Face Your Money Fears"
By Oraynab Jwayyed
ISBN: 9781665726306 (softcover); 9781665726313 (hardcover); 9781665726320 (electronic)
Available at Archway, Amazon and Barnes & Noble
About the author
Oraynab Jwayyed earned a master's degree in business administration from the University of Central Oklahoma. She is an advocate for financial literacy and economic empowerment. She is currently employed as a workforce and economic development specialist, where she supports victims of domestic violence in their pursuit for financial independence. To learn more, please visit https://www.oraynabjwayyed.com/.