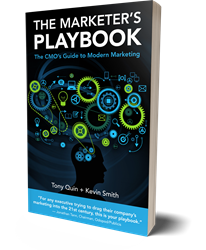 This is one of those tools you wish you had when you started. The authors have been through it all and bring their learnings and successes to the audience through a step-by-step approach, leaving you a more informed executive who actually gets how this stuff works. – Joe Olsen, SVP, MediaMonks
ATLANTA (PRWEB) August 09, 2018
The average tenure of a Chief Marketing Officer is 44 months, and the number of first-time CMOs jumped 31% in the past year. The CMO office comes with a revolving door and authors Tony Quin and Kevin Smith, have seen this trend play out first-hand many times while running IQ Agency, a 23-year-old digital advertising shop located in Atlanta and Los Angeles.
According to Tony Quin, the main issue is an increased demand for fast results along with the need for a high return-on-investment. "Today's CMOs face a tremendous amount of pressure to achieve quick wins, build brands that last, increase ROI, and be the voice of the consumer, all while navigating technology options and media platforms that are constantly changing."
The need for a constant resource that CMOs can rely upon led Tony and Kevin to write their first book, The Marketer's Playbook: The CMO's Guide to Modern Marketing, which outlines seven steps to building a modern marketing system from the ground up. The book debuted at #1 on BookAuthority's list of the top new marketing books for 2018 and is available at Amazon and Barnes & Noble.
According to Joe Olsen, Senior Vice President of MediaMonks, "This is one of those tools you wish you had when you started. The authors have been through it all and bring their learnings and successes to the audience through a step-by-step approach, leaving you a more informed executive who actually gets how this stuff works."
Visit https://marketersplaybook.com/ for more details, or to request interviews and speaking engagements.
Tony Quin is the founder and chairman emeritus of SoDA, the Society of Digital Agencies and the Founder of IQ Agency. Tony was awarded the American Marketing Association Marketer of the Year and, with his agency, has won numerous awards including the Cyber Gran Prix at the Cannes Lions.
Kevin Smith is the President of IQ Agency and has been honored by the AIMA for his industry leadership. He has a degree in Marketing, Advertising & PR from Emerson College, and an MBA in Strategy & Analytics and Marketing from Boston University.
SoDA Press is the publishing arm of SoDA, an association of the most celebrated digital agencies from around the world. Among its many programs the organization produces the SoDA Academy and publishes the SoDA Report.