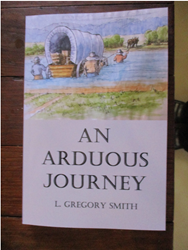 LAMPASAS, Texas (PRWEB) March 09, 2020
This book tells a story of a family in Germany beginning in 1833. They were being persecuted by a ruthless governor. This historical novel tells the reader of an amazing quest. This book is based on true events. The family made a benchmark decision to sell their land in 1833 and immigrate to America. Jacob Schmitt had a wife and five children when they began the trip. The story describes their courage and persistence, as well as the love and trust for each other. The family had very little to themselves as they made their way to Liverpool, England. They then traveled in a British ship and landed in New York City. When they first stepped on land, they changed their surname to Smith forever more. They were Americans. While in New York, they joined a group called the Texas Colony, which was organized by Stephen F. Austin. The family finally arrived at the Port of Matagorda on the Gulf Coast while the territory was still a part of Mexico.
They received a land grant and they built a very successful cattle ranch. A son of Jacob, Philip, was 12 years old when the family arrived, and The Texas Revolutionary War was about to explode. Philip joined the war when he was 14 years old and he was a teamster for Sam Houston's army. Later in his life, he, his wife Caroline, his daughter 3 year old Julia, and his brother Jacob, Jr. left Matagorda to settle in the primitive land in the northern part of what had become the Republic of Texas. The group left and became some of the earliest settlers in what is now Lampasas County. They rode on two oxen wagons and had 3 vaqueros who would drive 20 head of cattle to start their ranch.
The arduous journey included both the trip from Europe, as well as the four Smiths that had to deal with unbelievable hardships on their odyssey to settle primitive land. The book tells the stories of the birth of Texas, as well as the common folks who helped build the Republic of Texas and the Lone Star State.