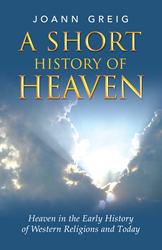 WELLINGTON, New Zealand (PRWEB) September 10, 2018
Joann Greig was busy getting her master's degree when she simply uploaded a research paper on the history of heaven for her dissertation to an academia website. The paper suddenly started to receive a significant amount of interest and even started to show up in pieces on Reddit and other social media websites, spurring her to write a book elaborating on her findings.
In "A Short History of Heaven: Heaven in the Early History of Western Religions and Today," Greig analyzes various Western religions such as Christianity, Judaism, and more and how the background behind and formation of the history of heaven in them affects their past and present ideologies.
Greig's book also discusses alternate modern religious ideologies, such as New Age spirituality or shamanism, showing how heaven is an aspect of many cultures and belief systems around the world.
"Many people believe in heaven, but I was surprised to find that there is little research as to how the concept of heaven came about or how people can apply the history to their modern religious practices," Greig said. "The increased interest is there, as it becomes a vital concern for people when those they are close to pass, as well as when confronting their own limited time on Earth."
In "A Short History of Heaven," readers can be informed about heaven and its history while broadening their own beliefs about the subject and how it affects their lives today.
"A Short History of Heaven: Heaven in the Early History of Western Religions and Today"
By: Joann Greig
ISBN: 978-1-9822-0078-7 (sc); 978-1-9822-0079-4 (hc); 978-1-9822-0080-0 (e)
Available at the Balboa Press Online Bookstore and Amazon
About the Author
Joann studied heaven in the history of Western religions at the Sophia Centre for the Study of Cosmology in Culture at the University of Wales Trinity Saint David. She has several degrees, including masters degrees in Cultural Astronomy and Astrology and in International Relations, as well as degrees in Law and Social Sciences from New Zealand. Joann has lived and worked in the Pacific area, Western Europe, the Balkans and the United States. For more information about the author and her book, please visit: http://www.joanngreig.com/