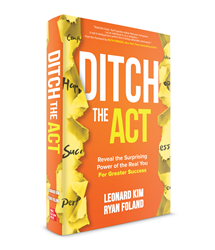 LOS ANGELES (PRWEB) October 25, 2019
Marketing expert Leonard Kim and brand strategist Ryan Foland are celebrating the publication of their ground-breaking book, Ditch the Act, Reveal the Surprising Power of the Real You for Greater Success.
As its title suggests, the book demonstrates how exposing your own weaknesses and failures--as well as your successes--is key to creating an authentic personal brand.
"We show how being vulnerable, and showing your human side, is a faster way to gain a trustworthy reputation," Kim told a recent interviewer. "Why? Because when you are more human, you allow the opportunity for people to relate to you faster."
Writing the book took more than three years and had "its fair share of ups and downs," the authors acknowledge. But their persistence paid off in the form of a book deal with McGraw-Hill Business.
In a world that constantly tells us to put on an act or present only our best selves to the public, Ditch the Act encourages entrepreneurs and others to keep it real. It's eight-step brand process teaches readers how to "own and expose who they truly are, form meaningful relationships that move the needle and, ultimately, uncover the greatness that already exists from within, to stack success."
The book, which is available on Amazon and at Target and Barnes and Noble, has a series of 11 worksheets and concepts outlined in its chapters, including "Crafting Your Unique Bio," and "Stacking Your Successes."
Kim, despite being a self-described "expert at failing," has won numerous awards, worked with or spoke at entities such as Cisco Systems, Keck Medicine of USC and Salesforce and has been interviewed or recognized in many publications, including Forbes, Fortune, Adweek and Entrepreneur.
He managed to turn his life around in 2013, after he fell behind in his bills and was served an eviction notice. After moving in with his grandmother, he moved back to Los Angeles and worked at American Honda, where he began writing publicly. In 2015, Leonard began building a successful career in personal branding. He holds workshops at companies, speaks at conferences and provides consulting and online courses.
Kim lives in Los Angeles with his wife, Angie. He can be found on Twitter @MrLeonardKim
Foland specializes in helping companies and their leaders "harness the power of authenticity and simplicity." His clients include bestselling authors, venture capitalists and Fortune 500 executives.
Foland also is communications manager for the Office of the Vice Provost for Teaching and Learning at the University of California, Irvine, overseeing strategic communication, marketing, social media and brand strategy for more than 25 undergraduate programs.
A high-energy keynote speaker, Foland developed the copyrighted 3-1-3® Method, which is covered in Ditch the Act. The method is a process that boils core messaging from three sentences down to one sentence and then down to three words. Check him out on Twitter @RyanFoland
Ditch the Act: Reveal the Surprising Power of the Real You for Greater Success
Ditch The Act demonstrates how revealing your failures and weaknesses is an essential element to building and sustaining a viral personal brand to help propel your relationships, your career, and/or your business. In this book, we'll show how ditching your act and getting vulnerable creates a unique and somewhat ironic combination of differentiation and like-mindedness with your audience. Learn more at ditchtheact.com