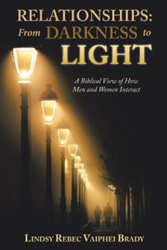 RIDGELAND, Miss. (PRWEB) March 12, 2019
Coming from her experiences of brokenness and suffering, Lindsy Rebec Vaiphei Brady pens "Relationships: From Darkness to Light" (published by WestBow Press) to reveal how God lead her to freedom and healing. Through the book, she offers others who have suffered like her the truth from God.
"Relationships: From Darkness to Light" speaks truth about the real journey of life on earth that people face in one way or the other. The book will open one's understanding about men and women and it will give a clearer picture of their purpose in life. It will purify the inside of one's heart to give a deeper understanding how to know the supernatural work of the Holy Spirit.
"Today's society is corrupt, where people believe and follow whatever they want and desire. Obeying their own personal gain coming from selfishness. Without knowing the real truth coming from God, we suppress the truth and reject God," Brady explains. "If the society doesn't wake up to know the real truth, it will be a very dangerous ground we stand on. So, this book speaks out to let everyone know about the truth and lies so the right choice is made before it's too late."
At its core, "Relationships: From Darkness to Light" shares to readers truth, healing, redemption, restoration, wisdom and understanding. "There is one answer that will lead to every question; to seek the Lord," Brady adds.
To purchase and know more about the book, readers can visit https://www.amazon.com/Relationships-Darkness-Light-Biblical-Interact/dp/197365069X.
"Relationships: From Darkness to Light"
By Lindsy Rebec Vaiphei Brady
Hardcover | 6 x 9in | 122 pages | ISBN 9781973650690
Softcover | 6 x 9in | 122 pages | ISBN 9781973650676
E-Book | 122 pages | ISBN 9781973650683
Available at Amazon and Barnes & Noble
About the Author
Lindsy Rebec Vaiphei Brady is a writer, researcher, minister and counselor in the Lord. She participates in healing and deliverance ministry, helping others in restoring their lives by prayers and encouragement in truth. Brady loves everyone, especially those who cannot help themselves, those who are in need, hungry and thirsty for the Lord. She prays her debut book, "Relationships: From Darkness to Light," touches millions of lives, for it is from her heart, soul and spirit. She continues writing what God reveals to her by his Spirit and will continue to obey according to the purpose of his will.