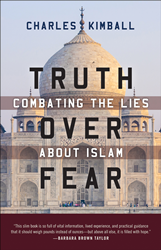 I can think of no better book for those seeking a practical and deeply empathetic treatment of interfaith understanding and cooperation. —Jim Wallis, Sojourners
LOUISVILLE, Ky. (PRWEB) August 20, 2019
From the Iranian Revolution to the September 11, 2001, attacks, questions and fears about Islam have proliferated American Christian life for decades. Yet more recently, the tangle of Christian-Muslim relations has become more complicated, with those in power mainstreaming Islamophobia as a path to political and societal power. To combat this religious misunderstanding, renowned Christian scholar of Islam, Charles Kimball, has published a new book, Truth over Fear: Combating the Lies about Islam.
Available now from Westminster John Knox Press, Truth over Fear demystifies the world's second largest religion. With practical guidance on how to share simple facts about Muslim beliefs and practices with family and others, how to take the first steps in starting a dialogue with our Muslim neighbors, and how to move beyond dialogue to shared ministry and community building, Kimball offers resources to address the manipulation of religious misunderstanding and intolerance.
Kimball offers answers to questions such as:

What are practical ways for non-Muslims to understand and diminish growing Islamophobia in the US?
What does the Qur'an say about Muslim relations with Christians and Jews?
How can Christians and Muslims work together constructively in local communities?
"Truth over Fear gives me hope for how our different faith traditions, each being what they distinctly are, can together help transform the world instead of helping tear it apart," says Jim Wallis, New York Times best-selling author of America's Original Sin: Racism, White Privilege, and the Bridge to a New America and Editor-in-Chief of Sojourners magazine. "I can think of no better book for those seeking a practical and deeply empathetic treatment of interfaith understanding and cooperation."
Charles Kimball is the author of other popular religious books, When Religion Become Evil (HarperOne, 2002) and When Religion Becomes Lethal (Jossey-Bass, 2011). Kimball is Presidential Professor and Chair of the Department of Religious Studies at the University of Oklahoma in Norman, Oklahoma. He is a frequent speaker at colleges, churches, and ecumenical and interreligious programs.