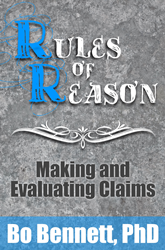 By the time you have finished this short book, no matter how good you were before at evaluating claims, you will be even better at it.
BOSTON (PRWEB) May 12, 2020
Whether watching the daily news on television or scrolling through a social media news feed, many people feel overwhelmed by the bombardment of vastly different claims and viewpoints offered by seemingly intelligent people. How can someone interested in the truth even begin to grapple with the many competing perspectives? Further, how can one increase the chances of fruitful dialogue when enmeshed in a heated debate with a friend or colleague, whether online or offline?
Author and social psychologist Bo Bennett, PhD, known for his best-selling book 'Logically Fallacious,' an encyclopedic collection of logical fallacies, and over a dozen other books related to reason and critical thought, now offers readers a pathway to precision in a pithy but powerful read, 'Rules of Reason: Making and Evaluating Claims.'
Bennett's latest book suggests that before trying to evaluate the merits of a claim, it's important to understand the claim in precise terms. He offers a framework of eleven "rules" to evaluate and construct claims in a way that replaces emotional rhetoric with specificity.
"Our goal in this book is to evaluate the strength of claims, including the ones that we make," says Bennett. "We should not focus on the evidence until we fully understand the claim. Without a strong, clear, and well-presented claim, the evaluation of evidence can be a waste of time and even lead us to poor conclusions."
In less than one hundred pages, Bennett offers plenty of concrete (and often humorous), practical examples and applications, related to current issues such as COVID-19, gun control, stop and frisk, climate change, sexual harassment, US Presidential Politics, religious debate and more. Bennett does not offer opinions on these topics in 'Rules of Reason,' rather, he employs various claims (including many with which he would not agree) as examples, demonstrating how they are weak, and how they can be strengthened as claims.
"The strength of a claim should not be confused with the strength of an argument," Bennett clarifies. "We base the strength of a claim on how clear and precise it is, not how true it might be."
Whereas several of Bennett's previous books are academic in nature, this latest offering is written for a popular audience. 'Rules of Reason' will appeal to those interested in clear communication and critical thinking, as well as anyone who would like to elevate their ability to engage productively in argumentation and debate in daily life. The book is appropriate for high school students and adults alike.
"Good critical thinking requires a thorough understanding of the claim before attempting to determine its veracity. Good communication requires the ability to make clear, precise, explicit claims, or 'strong' claims. The rules of reason in this book provide the framework for obtaining this understanding and ability," says Bennett.
Bennett offers his own claim for the book, which is both at once a "strong" claim, and a reasonable one: "By the time you have finished this short book, no matter how good you were before at evaluating claims, you will be even better at it."
Readers are encouraged to purchase 'Rule of Reason,' and test Bennett's claim for themselves.
'Rules of Reason: Making and Evaluating Claims' by Bo Bennett is published by eBookIt.com, and is available in both eBook and paperback format. Bennett also created an online course based on the book. This course, along with his other courses, can be found at https://www.virversity.com/instructor/20200320082553ky.
About Bo Bennett
Bo Bennett holds a PhD in social psychology, a master's degree in general psychology, and a bachelor's degree in marketing. He has published over a dozen books on the topics of logic, reason, argumentation, psychology, philosophy, religion, and critical thinking. He currently runs eBookIt.com, a service for self-published authors and small presses, that he started in 2010. You can find out more about him at BoBennett.com.
About eBookIt.com
Since 2010, eBookIt.com (based in Sudbury, Massachusetts) has helped thousands of authors and publishers get their books converted to ebook format, and distributed to all the major ebook retailers, including Amazon.com, Barnesandnoble.com, Apple iBookstore, Kobo, Scribd, Ingram Digital, and Google eBookstore.