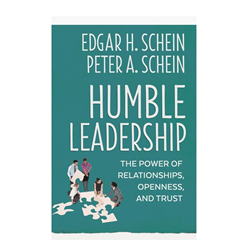 Humble Leadership aims to take the pressure off the leader and builds a case for leaders at any level to find success through higher orders of human collaboration built around trusting open relationships.
OAKLAND, Calif. (PRWEB) August 14, 2018
Traditional leadership models all too often lead to a systematic erosion of trust—subterfuge, disengagement, low productivity and low quality, corruption, and worse—asserts a new book out today. According to a pioneer of organizational culture studies and MIT professor Ed Schein and his son, Peter Schein, the traditional leadership style is the root of many of the problems faced by organizations today.
This new book, Humble Leadership: The Power of Relationships, Openness, and Trust, available today on Amazon and at other major booksellers, introduces a new leadership model which reimagines a form of leadership that coincides with emerging trends of relationship building, complex group work, and diverse workforces, and answers the call of challenges in this fast-paced and volatile world today. It uniquely positions leadership as a verb, rather than a noun, where it can apply to anybody in the work group and moves around all the time. Humble Leadership is published by Berrett-Koehler Publishing.
Humble Leadership is the latest installment in the Humble Leadership series, which includes Helping (2009), a book on the general theory and practice of giving and receiving help; Humble Inquiry (2013), which explores why helping is so difficult in Western culture; and Humble Consulting (2016), which revises the whole model of how to consult and coach.
"Unlike many other leadership books out there, this book isn't prescriptive," explained the Scheins, who co-founded the Organizational Culture and Leadership Institute. "It doesn't offer lists, success formulas, and required skills and attributes for the leaders to be the 'hero.' Instead, it aims to take the pressure off the leader and builds a case for leaders at any level to find success through higher orders of human collaboration built around trusting open relationships."
This book is for all managers and leaders who have the motivation, the scope, and the flexibility to create change in their organizations. Humble Leadership is most needed in our corporations, but is equally relevant to the other sectors of society such as medicine, the arts, political institutions, not-for-profits, sports teams, local community organizations, and so on.
The Humble Leadership model is for leaders, but it is not just for those in leading roles. It assumes leadership exists in all corners and levels of all organizations. Leadership is a complex mosaic of relationships, not a two-dimensional (top-down) status in a hierarchy, nor a set of unusual gifts or talents of "high-potential" individuals. In short, Humble Leadership is for everyone.
Humble Leadership has already received rave reviews:
"The future will reward humility and punish arrogance. Ed and Peter Schein show us both the power and the strength of humble leadership. They call on us to understand relationships more deeply and build relationships with people who are different from us. Humble Leadership is an antidote to arrogance and a practical guide to making the future." - Bob Johansen, Author of The New Leadership Literacies: Thriving in a Future of Extreme Disruption and Distributed Everything, IFTF Distinguished Fellow, and Institute for the Future
"Paradoxically, in a time when technology is changing so much of our work, the individual becomes even more crucial to the work of organizations. People now matter most and getting unique and different individuals to work together effectively is crucial. This calls for a new type of leadership. The Scheins, father and son, call it Level 2 leadership, and demonstrate it in a series of riveting examples from a wide range of organizations. This is the key book for the new age of human organizations. It ought to be compulsory reading for anyone who is given charge of any operation." - Charles Handy, Author of The Second Curve
"The book outlines the pathway to a culture of cooperation and trust and the leadership to create this. If you take it seriously, Humble Leadership is the only book on management you will ever need." - Peter Block, Author of Stewardship and Flawless Consulting, Coauthor of An Other Kingdom
"Effective leadership is all about building trust and relationships. With Humble Leadership, Ed and Peter help us to actually get there by understanding relationships on a much more granular and tangible level." - Severin Schwan, CEO Roche Group
Find more information about Humble Leadership at https://www.humbleleadership.com.
About Ed and Peter Schein:
Edgar H. Schein is the author of numerous bestselling books, including the recent Humble Inquiry and Humble Consulting. Schein recently retired from the position of the Society of Sloan Fellows Professor of Management and is now Professor Emeritus at the MIT Sloan School of Management. He has received ample recognition for his work, with multiple lifetime achievement awards from associations such as the American Society of Training Directors (2000), the Academy of Management (2009), and the International Leadership Association (2012). Edgar Schein is renowned as the father of organizational cultural studies.
Peter A. Schein is a Silicon Valley innovator with 30 years of business experience at large and small technology companies, including Apple, SGI, and Sun Microsystems, in corporate development and M&A. He has an undergraduate degree in anthropology from Stanford, an MBA from the Kellogg Graduate School of Management at Northwestern, and an OD certificate from the USC Center for Effective Organizations. Humble Leadership is his second writing collaboration with his father, Ed.