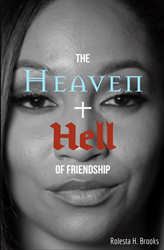 With a fresh, conversational writing style, reading the book feels like sitting across the table from a witty and wise girlfriend.
COLUMBUS, Ga. (PRWEB) February 27, 2020
Friendship offers some of the greatest joys of the human experience. At the same time, the words and actions of so-called "friends" also can cause distress, sorrow, and suffering. Wife, mother, and loyal friend Rolesta H. Brooks has taken her experiences on both sides of the friendship divide, and distilled her stories and wisdom into a new book, 'The Heaven and Hell of Friendship.'
A strong believer in the power and goodness of true friendship, Brooks shares about friends who not only encouraged her verbally, but whose witness and way of life silently challenged her to "level-up." As enriching as these friendships have been, she's unfortunately experienced many more that ended in disappointment.
"If anyone knows the pain of disappointment from friends, it is me," states Brooks.
Brooks became jaded after multiple heartbreaks—discovering a loyal "sister" was gossiping behind her back, and learning that another friend she thought was solidly in her corner was hoping for her to fail. Despite the hurt of betrayal, walking away from such unhealthy relationships often proved challenging, due to the shared memories, and the experience of "sisterhood"—even if it was only a facade.
"I decided to turn my pain into power by pouring my heart on paper," says Brooks. "I want to reach others who grieve the loss of friends and let them know they are not alone. The deep sense of loss they feel is not an 'overreaction.' It's a natural response," she explains.
"A loss is a loss, and it's okay to feel heartbroken," says Brooks. "The key is to not stay there, but to grow through it." Brooks' slim volume provides just such an opportunity.
At under one hundred pages, readers can take in 'The Heaven and Hell of Friendship' in a sitting or two, or slowly absorb and enjoy the short chapters in brief interludes.
With a fresh, conversational writing style, reading the book feels like sitting across the table from a witty and wise girlfriend. Brooks' "Here I am, no apologies!" personality leaps off the page, and is perhaps trumped only by her even bigger heart. Raw authenticity and vulnerability bleed through each chapter.
While committed to living out her friendships with integrity, Brooks offers a humble disclaimer at the start of the book. "I am not perfect," she declares in all capital letters, followed by admissions of her humanity and weaknesses. "I needed to display me in my entirety," she writes, "The good, bad, and ugly."
A committed Christian whose faith weaves throughout, Brooks opens each chapter with a verse or two from the Bible, and frequently quotes from historical and contemporary figures. Chapters conclude with introspective questions that invite the reader to peer deeper into their friendships—and into their hearts, followed by deeply spiritual prayers for discernment and enlightenment relative to the themes of the chapters.
While some of Brooks' quotes are from the Book of Proverbs, Brooks occasionally drops a line of her own that is so rich, beautifully stated, and resonating with truth that it seems like a modern-day proverb. For example, in reference to those situations where one party is putting all the effort into a friendship, she writes:
"Your peace will come when you stop running behind those you love and walk close behind those that love you."
In writing about letting go of unhealthy friendships, she counsels:
"Let your absence teach them what your presence couldn't."
While 'The Heaven and Hell of Friendship' will appeal to those who have been wounded by the betrayal of a friend, it remains ideal for anyone—regardless of their past relationships—who wants to be a better friend, and benefit from a more uplifting and supportive circle.
'The Heaven and Hell of Friendship" is available in both paperback and ebook format.
             
About Rolesta H. Brooks
Rolesta H. Brooks is the loving wife of ten years to Dominique Brooks. Together they have four children: Delonté (9), Jaylon (7), Princeton (3), and Maléia (1). She is a retired Engineer Army officer, a member of Alpha Kappa Alpha Sorority, Inc., and a proud native of Columbus, GA. Rolesta has a Master's of Public Health from Fort Valley State University, and a bachelor's degree in Healthcare from Albany State University. 'The Heaven and Hell of Friendship' is her first book.