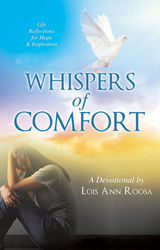 Each page has a personal note, or a "whisper of comfort," from the sweet Holy Spirit
FT. WORTH, Texas (PRWEB) October 02, 2019
Louis Ann Roosa's book WHISPERS OF COMFORT: Life Reflections for Hope & Inspiration ($11.99, paperback, 9781545611241; $5.99, e-book, 9781545611258), is available for purchase.
WHISPERS OF COMFORT: Life Reflections for Hope & Inspiration is a Bible inspired, Spirit guided, self-help book written in simple rhyme and poetic cadence that will encourage, edify, and touch the heart of the reader as a personal "whisper of comfort," from a loving heavenly Father. Each page has multiple scripture references for further study, and WHISPERS OF COMFORT will prayerfully minister peace and comfort to anyone who is hurting or overwhelmed with life.
This subtitled devotional expresses the deep love and appreciation for the comfort that the Lord has given and is a collection of thoughts and impressions written from the heart of the author as inspiration came by the Holy Spirit during prayer and study time. Each page noted by "Day" format is for simplicity of reference. The "Days" are organized at random to capture feelings, thoughts, or experiences like life as it flows. Each page has a personal note, or a "whisper of comfort," from the sweet Holy Spirit, as perceived by the writer and inspired by the Scriptures referenced.
Lois Roosa is like anyone and everyone living life who needs a moment of peace and comfort that can only come from our Heavenly Father. As a devoted person of intercession for others, Lois' prayer and deep desire is that each of the poems will be a "comfort" to every reader, and will be received as a "whisper" from our loving Heavenly Father who sees, knows, and cares about every life struggle that each of His children experiences.
Xulon Press, a division of Salem Media Group, is the world's largest Christian self-publisher, with more than 12,000 titles published to date. WHISPERS OF COMFORT: Life Reflections for Hope & Inspiration is available online through xulonpress.com/bookstore, amazon.com, and barnesandnoble.com.