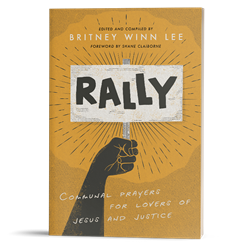 "This is a prayer book for a revolution," Shane Claiborne writes in the foreword of Rally—"a revolution of love and compassion and justice."
NASHVILLE, Tenn. (PRWEB) August 10, 2020
Over the past several months, the United States and the rest of the world find themselves in the midst of unexpected and unwanted crises. Whether it is racial violence, political change or inaction, economic hardship or a crippling pandemic, people of faith are looking for ways to respond to what is happening in their lives, families, and communities.
"Rally: Communal Prayers for Lovers of Jesus and Justice" speaks to readers with great faith, those seeking deeper faith, people new to prayer, or anyone looking for an authentic way to pray together. It reminds readers that they can take action in the face of fear, evil, and injustice.
Compiled and edited by Britney Winn Lee, "Rally" was released by Fresh Air Books on August 1. Lee is the director of a community arts program in Shreveport, Louisiana. An artist and word-wielder since childhood, Lee is the author of "Deconstructed Do-Gooder: A Memoir About Learning Mercy the Hard Way" and "The Boy with Big, Big Feelings." She led a team of more than 45 writers to contribute to this collection of reflections with call-and-response prayers meant to be prayed as a group.
"Rally" contains more than 50 litanies (prayers) for loving our neighbors, our bodies, for listening to one another, for those who have been wounded by the church, victims, perpetrators, and many others. In this resource, readers will find prayers that evoke hope and connection, laments about destruction of the earth, and pleas for loving alike though we don't think alike.
Contributors include Jonathan Wilson-Hartgrove, D. L. Mayfield, Onleilove Chika Alston, Delonte Harrod, Patrice Gopo, Bruce Reyes-Chow, Rachel G. Hackenberg, and Michael T. McRay, among others.
Prayers in "Rally" spur people to draw courage from one another and take positive steps for change. The words of hope found in this book will motivate readers to gather (even if only virtually) and grieve, meditate, and organize for action.
"This is a prayer book for a revolution," Shane Claiborne writes in the foreword of "Rally"—"a revolution of love and compassion and justice."
###
The Upper Room is a global ministry dedicated to supporting the spiritual formation of Christians seeking to know and experience God more fully. From its beginnings as a daily devotional guide, The Upper Room has grown to include publications, programs, prayer support, and other resources to help believers of all ages and denominations move to a deeper level of faith and service. The Upper Room is a part of Discipleship Ministries. Visit UpperRoom.org to learn more.