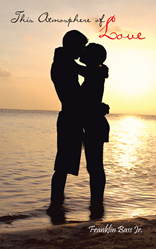 "When I met my wife, I knew I needed to write down the love and admiration for this woman who means so much to me. Readers will get to see how our love grew and the times that we have shared thus far together."
JAMAICA, N.Y. (PRWEB) February 11, 2020
Author Franklin Bass Jr. has released his heartfelt collection of poetry, "This Atmosphere of Love" just in time for Valentines Day. Readers will experience the love that Bass Jr. has for his wife through the beautiful poems that he wrote for her.
The author offers a poetic journey that will take readers through the foundation of his relationship and the love that he has for his partner. He describes her sensitivity, beauty and style in each poem. The thirty-three poems are accompanied by photographs that punctuate the significance of each story.
An excerpt from one of the poems in "This Atmosphere of Love":
"To me your heart is to be admired, it is of sheer beauty, no wonder why you are so desired."
"I decided to write poems after I saw classmates in my high school class passing love letters to their significant others," said Bass Jr. "When I met my wife, I knew I needed to write down the love and admiration for this woman who means so much to me. Readers will get to see how our love grew and the times that we have shared thus far together."
"This Atmosphere of Love" is a beautiful tribute that catches the relationship that the author has with the love of his life.
"This Atmosphere of Love"
By Franklin Bass Jr.
ISBN: 9781477276327 (softcover); 9781477276310 (eBook)
Available through Amazon, Barnes & Noble and AuthorHouse
About the Author
Franklin Bass Jr. is a veteran of the United States Army. Bass has now written two books, "On Different Levels" and "This Atmosphere of Love." The author loves writing content that readers can relate to and hopes to write more books.
For general inquiries contact:
LAVIDGE
gbywater(at)lavidge(dot)com