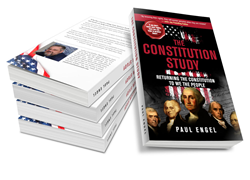 Paul's expansive knowledge of the U.S. Constitution is invaluable to anyone looking for insightful information about our Nation's founding documents. Winston Wang, Administrator, The Bipartisan Press
NASHVILLE, Tenn. (PRWEB) May 04, 2020
Today, Paul Engel released his new book titled The Constitution Study. Recognizing how little most Americans know about the U.S. Constitution and how much of what they've been taught is wrong, he wrote this book to help everyone read and learn about the U.S. Constitution on their own, without getting a law degree.
Studies show that 30%-40% of Americans cannot name a single freedom protected by the First Amendment. Even students in most law schools don't study the Constitution, they study judges opinions about it called "Constitutional Law".
Paul Engel
Late in his 30 year IT career, Paul read a quote by Founding Father John Jay that encouraged everyone to read and study the Constitution for themselves. He took it as a challenge. Since then, he has not only written this book to help others read and learn about the Constitution for themselves, but started a website and a podcast that answer constitutional questions and look at current events from from a constitutional point of view. Paul also travels the country teaching others what the Constitution of the United States says and how people can learn more about it for themselves.
Follow the news and you'll see that not only do most Americans not know what the U.S. Constitution says, but even judges, lawyers, and politicians often misquote or misrepresent the supreme law of the land. The Constitution Study was created to show that everyone can read and understand the Constitution and learn to apply it in their own lives. Written in plain, conversational English, The Constitution Study is not targeted at academia or legal scholars, but at the true foundation of our republic: We the People. Whether you're a long time history buff or just starting out, this book can help you read and study the Constitution.
The Constitution Study is one of my most highly recommended Constitutional Education sources available.
Jessie Rude, Executive, Constitutional Grass Roots Movement
It doesn't take a law degree to understand the supreme law of the land. Most people can read the Constitution in about 20 minutes. And if you're worried about the language being difficult, this new book can help.
Paul's expansive knowledge of the U.S. Constitution is invaluable to anyone looking for insightful information about our Nation's founding documents.
Winston Wang, Administrator, The Bipartisan Press
The book is available on Amazon, Apple Books, and The Constitution Study website. For more information about The Constitution Study, please visit https://constitutionstudy.com or contact Paul Engel at (931) 492-1162 or paul@constituitonstuyd.com
The website also has links to other books Paul has written and a list of events he will be participating in. He is also available for interviews regarding constitutional questions.
###