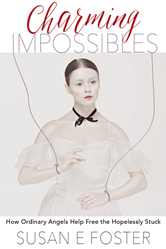 Author Susan E Foster offers solutions to protect families before it's too late.
DALLAS (PRWEB) April 16, 2020
What is the definition of an abuser?
Susan E Foster, author of the new book "Charming IMPOSSIBLES: How Ordinary Angels Help Free the Hopelessly Stuck" (Clovercroft Publishing) calls them, "'Charming Impossibles' -- 'charm' is their deceptive invisible mask and convincing lure. 'Impossible to satisfy' is their secret weapon or intentional method of manipulation and control."
'Charming Impossibles' are everywhere. They are not defined by background, race, income, or social status. They could be in your family; in the neighborhood; at your office, schools, and place of worship; or even leading your political and social movements. They might include your mother, your father, or your spouse or in-laws. They are acquaintances, strangers, and friends. They are managers and agents of superstars. "Ordinary Angels" are people who contribute to salvation for someone suffering abuse.
But, how do you escape the abusers in your life? Why is leaving them behind while moving forward so difficult?
Charming Impossibles are great pretenders, masters in not revealing their true insincerity, hiding behind a big smile, or manifesting self-superiority. Their approval strategically remains just beyond reach. They are narcissists who have an a inflated sense of their own self-importance, and lack empathy for others. But behind this mask of extreme confidence lies a fragile self-esteem that's vulnerable to the slightest criticism.
In this very revealing book, Foster pulls back the curtain on her personal journey of survival and faith through years of emotional abuse and isolation in plain sight, and the lessons learned. She also shares powerful and moving stories of others, unraveling the mysterious web of confusion surrounding abuse and overcoming difficult relationships to inspire healthy changes for men and women seeking to overcome and heal.
She reveals the insidious, invisible tactics abusers use to render their targets "Hopelessly Stuck" to teach others how to recognize and escape the invisible strings of the abusers in their lives, to help them to better understand the dark roots of what makes relationships toxic, and the various stages that evolve along the way. She hopes by impressing upon readers her empowering story to inspire them to see the Charming Impossibles in their own lives -- and implores them to do something about it by making healthy changes.
Readers will learn that she lost a son to suicide. The result of an abusive father who always told him he would never amount to anything. In the aftermath, she learned that childhood trauma (emotional or physical) changes the physiology of the brain. A team from the McGill Group for Suicide Studies at the Douglas Mental Health University Institute and McGill University in Montreal, Canada, aims to decipher how a history of abuse can impact key brain mechanisms, affecting mental health.
In the end Susan is a fighter. She says, "For me, there was more to it than leave or stay. It was that deep within, where there was hope that no matter how dark and harsh it was, the hope reached deeper still." Further adding, "There was hope that good would eventually come out of the bad and right all the wrong. There was the knowledge that God could, so maybe He would, turn this ship around and get us on a smooth course. It was faith, hope, and love that kept me there."
She closes with the following tribute to her three surviving children and the too numerous to count other survivors of various abuses, remember: Many great people come from troubled homes and backgrounds. Together, let's choose to continue living our very best until God chooses to call us home.
To learn more, visit: susanefoster.com
Books are available online and bookstores everywhere
About the Author
Susan E Foster is a mother, author, speaker, coach and advocate hoping to equip men and women to recognize the abusive Charming Impossibles in their lives. A graduate of The University of Texas School of Journalism, Susan writes a compelling narrative of the insidious, invisible tactics abusers use to render their targets "Hopelessly Stuck." By sharing her personal story of survival and faith, Susan reveals how the web of confusion is spun around abuse, inspiring healthy changes for men, women, and children to overcome and heal.
With the help of Ordinary Angels, Susan successfully led her four teen-aged children out of abuse towards a new future. They faced yet another daunting challenge when her youngest son began to emotionally spiral downward, and ultimately took his own life. Readers will learn how Ordinary Angels became a beacon of hope for Susan, her three surviving children, and many others. She hopes you will discover the Ordinary Angels in your life just as she has in hers. Susan E Foster resides in Fort Worth, Texas.