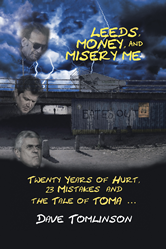 BIRMINGHAM, England (PRWEB) January 06, 2020
"Doing a Leeds" is a common phrase among English football fans, a cheeky yet cautionary warning against humiliation and failure. However, for Leeds United fans, it's the disappointing reality of their beloved team's fall from grace after years of financial mismanagement.
In "Leeds, Money, and Misery Me: Twenty Years of Hurt, 23 Mistakes and the Tale of TOMA …," author and Leeds United superfan Dave Tomlinson dives deep into the recent history of the football club, analyzing how one of the biggest clubs in England dropped to League One, accumulated massive debts and betrayed their loyal, passionate fans in just a few short years.
A lifelong supporter of Leeds United, Tomlinson was fascinated by the collapse of the club as well as its rebirth in recent years. He identifies the key mistakes made by the club's management over the course of two decades, illustrating the devastating impact of each financial misstep and how the club may have otherwise thrived if they'd been avoided. Ultimately, the book provides a basis for the importance of careful management, illustrating the danger of greed and corruption in football.
"The story of Leeds United is one of the best, most informative case studies of a business collapse and is often cited as such," said Tomlinson. "It's an archetypal example of the detriment of allowing money and ego to change the control and direction of the game."
"I've been waiting for something like this book for years, a retelling of the real story of Leeds United ever since they entered the world of the [public limited company]…" wrote Derek Deat, an Amazon UK reviewer. "It's a fascinating, in-depth, no-holds-barred story of what actually happened and who did what, exploring how it could have turned out if the 23 Mistakes, as the author terms them, never happened."
"Leeds, Money, and Misery Me: Twenty Years of Hurt, 23 Mistakes and the Tale of TOMA …"
By Dave Tomlinson
ISBN: 9781728393933 (softcover); 9781728393940 (hardcover); 9781728393926 (electronic)
Available from Amazon, Barnes & Noble and AuthorHouse
About the author
Dave Tomlinson is a Finance Director in the National Health Service and a lifelong supporter of Leeds United, dating back to their March 1970 win against Standard Liège in the European Cup quarterfinals. He has authored two other books about the club, "Leeds United: A History" and "Billy Bremner: Fifty Defining Fixture." He also established mightyleeds.co.uk in 1999 with the aspiration of it being the definitive history of the club. Tomlinson lives with the love of his life, Adele, and their three dogs and ferocious cat in Birmingham, England.
###
Review Copies & Interview Requests:
LAVIDGE – Phoenix
Leslie Standridge
480-998-2600 x 586
lstandridge(at)lavidge(dot)com