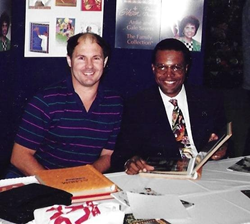 REYNOLDSBURG, Ohio (PRWEB) April 05, 2021
This e-book is about legendary Gale Sayers. He was known as the "Kansas Comet" and was perhaps the most dynamic and exciting runner in NFL history. I have chronicled his entire football career and his longest touchdowns. His credentials are impressive. In 1965, he scored an NFL-tying 6 touchdowns in a single-game against the 49ers. Gale is considered the best ever kickoff returner with a record of 30.6 average yards per return. It still stands 51 years later. For 42 years, he also shared the NFL-record with 6 kickoff return touchdowns in a career. In spite of playing in a brief, but highly productive career, that spanned only 4 1/2 years, from 1965-1969, he had already established his legacy as an all-time great runner and kick returner. In 1968, he suffered a career-ending knee injury. Gale played one more year in 1969 and led the NFL in rushing with 1,032 yards. In 1970 and 1971, he sustained more knee injuries and only played in 4 games and retired in the summer of 1972. Gale Sayers, "Bullet" Bob Hayes of the Dallas Cowboys, and O.J. Simpson of the Buffalo Bills were the 3 most dynamic and exciting players in Pro Football history.
At 6'0" tall and a sleek 198 pounds, Gale Sayers was the prototype of the modern day runners of the future. He was one of the first of the fast, athletic running talents who combined 9.6 speed, quickness, strength, high-tech moves, elusiveness, acceleration, and the ability to cut back against the grain. He was the most gifted, feared, and sensational runner of any generation. Gale also refined and transcended the running game to another level and new stratosphere in the mid-60's. The 4 best runners in NFL history are Jimmy Brown, Gale Sayers, O.J. Simpson, and Walter Payton. Gale's instincts and peripheral vision was beyond belief. His grace and athleticism was unparalleled and he had the balance of a cat.
Here are some helpful links about Danny Jones' other books:
The NFL Commemorates the 100th Anniversary of Pro Football -
While Unknown Author Danny Jones has written 5 books on 101
of the best players from the 50's, 60's, and 70's
Unknown Author Gives Recognition to 101 of the NFL's Best Ever Players of the 50's, 60's, and 70's
Amazon.com: Danny Jones: Books, Biography, Blog, Audiobooks, Kindle
In 1962, his sophomore season, he burst upon the college football scene like a comet flashing across the skies. At the University of Kansas, Gale was college football's 3rd leading rusher in the country with 1,125 yards, 7 touchdowns, and had the best average in the nation with a 7.1 yards per carry. In 1962, against Oklahoma State, he rushed for 283 yards - including a 96-yard touchdown run to lead Kansas to a 36-17 comeback win. In 1963, against Nebraska, Gale set a NCAA record with a 99-yard touchdown run showcasing his near world-class 9.6 speed. It's a record that can never be broken. Gale was the 3rd leading rusher in the nation as he ran for 917 yards and scored 8 touchdowns during the season. His 1,072 yards from scrimmage was #1 in college football. In 1964, his senior year, he led Kansas to a 15-14 upset victory over Oklahoma with a mind-boggling 93-yard kickoff return for a score on the opening kickoff. It was a brilliant play showing his dazzling moves that have never been seen before. It was one of the best best plays in college football history. Gale was a consensus 2-time All-American in 1963 and 1964. He was inducted into the College Football Hall of Fame in 1977.
In 1965, his rookie year, Gale was the NFL's 2nd leading rusher to Jimmy Brown. He rushed for 867 yards and scored an NFL-record 22 touchdowns (since broken). Gale was the NFL's leading scorer and ranked 2nd in the league in both kickoffs and punt returns. The "Kansas Comet" tied the NFL-record by scoring 6 touchdowns in a single-game against the 49ers. He scored on plays of: 80, 21, 7, 50, 1, and 85 yards. It was the most spectacular one man display of grace and athleticism ever seen. It was the most sensational and memorable performance by anyone in any athletic event. In 1966, Gale led the NFL in rushing with 1,231 yards and scored 12 touchdowns. In 1967, he was the 3rd leading rusher in the NFL with 880 yards and scored 12 touchdowns. Gale also returned a kickoff 103 yards for a touchdown against the Steelers. In 1968, he played in 9 games. Gale had a career-ending knee injury. He finished 5th in the NFL with 856 yards rushing and a NFL-high 6.2 yards per carry. In 1969, his last healthy season of playing, Gale led the the NFL in rushing with 1,032 yards. He retired after the 1971 season. Gale was chosen to the Pro Football Hall of Fame in 1977. He was selected to the NFL's 50th, 75th, and 100th Anniversary All-Time Team.
Gale had 20 100-yard rushing games in his career. He scored 20 touchdowns of 43 or more yards. This was accomplished in only 4 1/2 years. Gale Sayers passed away in September of 2020. He was 77 years old. Gale was a very successful businessman. He was a stockbroker, an athletic director, and owned a computer company. Gale was involved in many charities and was always helping people who were less fortunate. He was forever young and vibrant and free. Too bad his career was too short. He was definitely a class act, an outstanding person, and a legend for all seasons. Gale Sayers, the Kansas Comet, who burned briefly, but more brilliantly than anyone before or since.