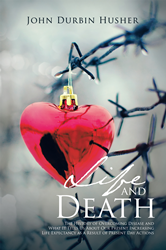 LOS ALTOS HILLS, Calif. (PRWEB) February 17, 2020
Author John Durbin Husher has released his latest book, "Life and Death," a thorough account of the worst fatal diseases and deadly phenomena to afflict human life and how these epidemics led to major medical breakthroughs that ultimately changed the course of human history.
Husher examines five consequential catastrophes that resulted in extensive loss of human life and how, through research and innovation, humankind was able to triumph over them. From vaccines and cancer screenings to penicillin and prescription drugs, he highlights the medical innovations that have increased the length and quality of human life and commemorates the physicians and scientists whose hard work and determination made such advancements possible.
Husher also addresses current problems in medicine and public health, including the resurgence of several formerly eradicated diseases. He asserts that while measles and similar preventable ailments may be on the rise, large-scale casualties are unlikely to occur again, citing the advancements in science and technology as well as the expanded knowledge of contemporary medical professionals to support his argument.
A fascinating, educational read that breaks down medical history in comprehensible and accessible terms, "Life and Death" underlines the tools and treatments that have been created to improve human life and stresses the importance of utilizing these healthcare innovations.
"Life and Death: The History of Overcoming Disease and What It Tells Us About Our Present Increasing Life Expectancy as a Result of Present-Day Actions"
By John Durbin Husher
ISBN: 9781491777800 (softcover); 9781491786789 (hardcover); 9781491777794 (electronic)
Available from Amazon, Barnes & Noble and iUniverse
About the author
John Durbin Husher is an author and retired engineer and executive. He received his Bachelor of Science in Electrical Engineering from the University of Pittsburgh in 1958 and served as the Vice President and General Manager of Micrel Semiconductor for 20 years. Since retirement, he has published 11 books.
Review Copies & Interview Requests:
LAVIDGE – Phoenix
480-998-2600 x 586
lstandridge(at)lavidge(dot)com