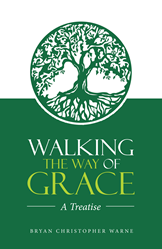 LENEXA, Kan. (PRWEB) November 29, 2021
For Christians, grace is an intimately familiar concept, a precious gift bestowed by God that facilitates the forgiveness of sin and the offering of salvation. While grace cannot be earned nor repaid, it is also not meant to simply be accepted. As Bryan Christopher Warne explores in his new book, "Walking the Way of Grace: A Treatise," God's grace is intended to be shared with others and reflected in all that Christians do.
Weaving scripture with scientific, philosophical and theoretical principles, "Walking the Way of Grace" provides a comprehensive examination of grace, both the depth of its meaning and its various implications for daily life. Warne illuminates how grace serves as a navigational guide, offering a new lens for making decisions, managing difficult emotions, interacting with others and, most importantly, honoring God.
In writing "Walking the Way of Grace," Warne hopes to help Christians deepen their understanding of what grace is so that they may see it blossom and flourish in every aspect of their lives while also deepening their relationship with the Lord. Ultimately, by participating in God's grace, readers can live in closer alignment with what Jesus called upon them to do: love one another.
"Grace is given to us so that we may come to understand what is 'noble, right, pure, and lovely,'" said Warne. "It is given to us so that we may choose, of our own volition, to follow the Lord. The more we align our choices with God's grace, the more we are capable to see it in our lives and the lives of others."
"Walking the Way of Grace: A Treatise"
By Bryan Christopher Warne
ISBN: 9781664237124 (softcover); 9781664237117 (hardcover); 9781664237223 (electronic)
Available from Amazon, Barnes & Noble and WestBow Press
About the author
Bryan Christopher Warne was a wanderer yet yearned for The Truth. It would take him reaching a mature age to fully become childlike again; rather, to fully remember that Lord God was with him, patiently waiting and guiding him all along. Warne has a bachelor's degree in mass communications and journalism and a minor in anthropology from Kansas State University and a bachelor's degree in nursing from William Jewell College. He lives his vocation as a nurse, a writer, a director of film and an explorer of the earth and the human condition. He is currently living in the Heart, in America.
Review Copies & Interview Requests:
LAVIDGE – Phoenix
Becca Armentrout
480-998-2600
barmentrout(at)lavidge(dot)com