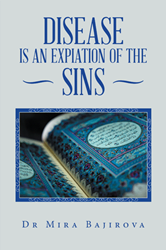 DUBAI, United Arab Emirates (PRWEB) September 09, 2019
Dr Mira Bajirova believes medicine went astray and instead of helping people, it contributed to the progression of disease because the majority of the diseases are caused by demons or evil jinn. God sends diseases to expiate the sins. Every sin is a disobedience to Allah. Sins remove God's blessings: life, health, fertility, wealth, knowledge and memory. Disease is a reminder that the person should turn to Allah for the cure, own benefits and own salvation from the Hellfire. Enduring the temporary torment in this life is better than the eternal torment in the Hereafter.
In "Disease is an Expiation of the Sins" (published by Partridge Singapore), Bajirova explains that the diseases inflicted to humanity are the result of decreased oxygen utilization and the evil jinn. The Ultimate Cure from all diseases is the Ruqya, Negative Ions and Prophetic Medicine.
"What the sick people should do is to ask Allah for forgiveness and a cure for their disease, follow the Creator's Laws and expose themselves to the Negative Ions to have a blissful life which is only with Allah the Almighty," Bajirova says.
"Disease is an Expiation of the Sins" aims to remind readers that everything in this world is in the hands of Allah and that they should turn to Him for their salvation from the eternal Hellfire in the Hereafter. "True and everlasting peace, happiness and success in this temporary life and Paradise in the next life are only for the true believers in Allah the Almighty," Bajirova adds. For more details about the book, please visit https://www.amazon.com/Disease-Expiation-Sins-Mira-Bajirova/dp/1543752489
"Disease is an Expiation of the Sins"
By Dr Mira Bajirova
Hardcover | 6 x 9in | 360 pages | ISBN 9781543752502
Softcover | 6 x 9in | 360 pages | ISBN 9781543752489
E-Book | 360 pages | ISBN 9781543752496
Available at Amazon and Barnes & Noble
About the Author
Dr Mira Bajirova is an associate professor, OB-GYN consultant from Paris. She has obtained 14 university diplomas and certificates. She received the "Women Achievers Award 2018." She published "Infertility Caused by Decreased Oxygen Utilization and Jinn (Demon)." She is an international speaker and worked in many countries.
Partridge Singapore, an imprint in partnership with Penguin Random House Singapore, aims to help writers in Singapore, Malaysia, and the rest of Southeast Asia become published authors. Partridge Singapore gives authors in the region direct access to a comprehensive range of expert publishing services that meet industry standards but are more accessible to the market. For more information or to publish a book, visit partridgepublishing.com/singapore or call 800 101 2657 (Singapore) or 1 800 81 7340 (Malaysia). For the latest, follow @PartridgeSG on Twitter.