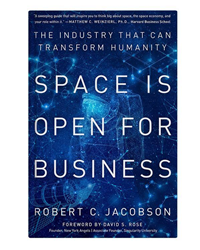 This book is positive and forward-looking, exploring a suite of opportunities and solutions that individuals and organizations can start to take advantage of to help transform our planet.
LOS ANGELES (PRWEB) September 01, 2020
Entrepreneur, investor, and commercial space industry expert Robert C. Jacobson has spent his life fascinated by space, and now he's bringing the lessons of a lifetime in the space industry to readers everywhere. Space profoundly affects our lives in ways we hardly ever think about—and it holds the keys to our future.
Jacobson's new non-fiction work, "Space Is Open for Business: The Industry That Can Transform Humanity," provides a comprehensive overview of this spectacular industry, allowing everyone on Earth to understand the integral role space plays in our lives, how it will continue to transform the world, and how you could participate. The global space economy grew to $400 billion in 2019, but the real story is how one no longer needs to be a billionaire or rocket scientist to participate in space. Meticulously researched and edited for the most time-challenged reader, Jacobson provides a framework for those outside of the industry to understand the origins and future of movement known as NewSpace.
With a global pandemic, the looming dangers of climate change, an economic recession, and civil unrest causing the most massive upheaval of this century, how does space really fit into this dynamic narrative, and why should we care?
According to Jacobson, space is not a destination—it's an enabler for some of the most innovative and transformative technologies. Without space we would have no microcomputer, internet, GPS, LASIK, Cochlear implants, or satellite weather forecasting. The societal benefits from space are so massive that we still reap dividends from the Apollo program, which ended over forty years ago. The author argues that the industrialization and further use of the space domain will yield benefits in the short- and long-term, creating jobs, developing new technologies, helping solve core global challenges, and inspiring new generations of visionaries.
This book is positive and forward-looking, exploring a suite of opportunities and solutions that individuals and organizations can start to take advantage of to help transform our planet.
"Space Is Open for Business" features insights from over one hundred industry experts, ranging from traditional space veterans to leading-edge investors to NewSpace pioneers, as Jacobson explores how the more we are aware of benefits and enabling opportunities in space, the better chance societies have for creating a prosperous future.
Pre-order "Space Is Open for Business" to begin your journey into the universe's most fascinating industry.
In celebration of the release and the democratization of space, Jacobson assembled an impressive group of bonuses available for bulk purchase orders.
The bonuses include:

Attending a live rocket launch
Custom 3D printed brick made from your own dirt
Subscription to the Gust platform
Draper University's online program
Sending your and/or your pet's DNA to the moon with a backup of the Earth
Have your favorite photo etched in metal and landed on the moon
Joining podcast Brave New Space as a featured guest
Zero gravity flight
Cosmonaut training for a day
Visit to a working spaceport
Experience the Overview Effect (Live 10 days in the ISS as a Private Astronaut)
Sharing the wonders of space by sponsoring space themed workshop for school-aged kids
Chocolate chip cookies baked in an oven on the International Space Station and delivered to your doorstep
Copies of Frank White's book The Overview Effect
Copies of David S. Rose's books Angel Investing: The Gust Guide to Making Money and -Having Fun Investing in Startups and The Startup Checklist: 25 Steps to a Scalable, High-Growth Business
Video call with director of Orphans of Apollo
Video call with Founder of world's favorite 3D food printer
Online experience of journey to the moon led by renowned space-artist, Nahum
VIP tour of a robotics lab
Zero gravity movement seminar with physicist and artist Dr. Adam Dipert
VIP tickets to RAW Science Film Festival
And much more!
Robert C. Jacobson is a multi-faceted entrepreneur and the CEO of Space Advisors. As one of the first team members of Arch Mission Foundation, Robert worked to initiate the first Solar Library (the payload launched in Elon Musk's Tesla in 2018) and the first Lunar Library (the archive that crash-landed on the Moon in 2019). He served as a principal with Space Angels (formerly Space Angels Network), the leading source of capital for aerospace and aviation startups, and on the board of directors for the Space Frontier Foundation.
Launch partners for the release of "Space is Open for Business" include Cosmic Perspective, Redworks Construction Technologies, Space VR, Gust, Draper University, Lifeship, Brave New Space, Orphans of Apollo, Natural Machines, Janet's Place, and Teachers in Space Inc.
Pre-Order "Space Is Open for Business" today through Amazon and https://www.spaceisopenforbusiness.com/book
Official Release date: September 15th, 2020
For review copies, please email hello@robertjacobson.com
Visit SpaceIsOpenForBusiness.com for more information and bonus materials.