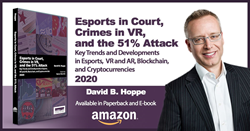 David Hoppe gives a fantastic take on esports and the wider games industry. "This book is very timely and contains a ton of information and links further exploration
SAN FRANCISCO (PRWEB) July 29, 2020
Gamma Law, the premier specialty law firm supporting clients in selected high-growth and emerging business sectors, is pleased to announce that less than three months after its release, Managing Partner David B. Hoppe's new book ranks 58th (as of July 27) among Entertainment Law books offered on Amazon.com's Kindle Store. Esports in Court, Crimes in VR, and the 51% Attack: Key Trends and Developments in Esports, VR and AR, Blockchain and Cryptocurrencies chronicles Hoppe's experiences representing and advising clients involved in today's cutting-edge industries – augmented reality, digital media, blockchain, cryptocurrencies, esports, and more.
"David Hoppe gives a fantastic take on esports and the wider games industry," said Paul Thind, founder and chief executive officer of Triggerspot, Inc., a digital entertainment consultancy. "This book is very timely and contains a ton of information and links further exploration."
Amazon reviewers also provided high marks for the book, consistently giving it 5-star ratings. One reviewer described it as "a fun read," while another said they appreciate Hoppe's "significant insight into some of the most critical and influential industries of our time."
Presented as a combination of entertaining anecdotes, thought-provoking essays, and concise infographics, Hoppe's book examines the business dynamics and legal and ethical considerations inherent in these industries, offering both a historical perspective and a vision founded on 25 years' experience representing established companies and emerging forces in these industries.
"I am extremely gratified by the reception the book has received, both on Amazon and among the professionals we serve," Hoppe said. "The technologies behind these industries advance daily, and so do the regulations and laws –- both domestic and international –- that govern them. I tried to capture this progression and energy to demonstrate the possibilities and challenges facing participants."
About David B. Hoppe
Gamma Law's Managing Partner David Hoppe combines the sophistication and global perspective of an international transactional attorney with the hands-on understanding of the day-to-day realities of startups, growing companies, and enterprises going global. He began his career at two high-profile international law firms, Jones Day and White & Case, based in Tokyo, New York, Los Angeles, Stockholm, and Helsinki. He also served as International Counsel for Excite.com, a NASDAQ-listed web portal, and North America General Counsel of Capcom, the Japanese video game publisher.
About Gamma Law
Gamma Law supports select clients in emerging media and technology business sectors, including esports, video games, AR/VR/MR, blockchain, cryptocurrencies, and digital media. Gamma Law's team is composed of legal specialists with experience in large international law firms and as in-house counsel for technology and entertainment companies in the US and Japan.
Contact:
Scott Smith
marketing@gammalaw.com