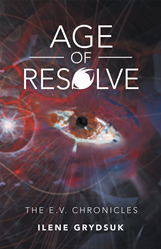 "I hope readers will recognize that freedom is a gift," said Grydsuk. "If we continue to abuse it, and treat it as an instrument for political or personal gain, we will never live in harmony with each other or in balance with nature."
ONTARIO (PRWEB) February 07, 2023
In "Age of Resolve: The EV Chronicles," by Ilene Grydsuk, readers are immersed in a future society called the "Biodome," a new order intolerant of the sinful behaviors of the past. When two recent high school graduates take it upon themselves to fight evil forces and defend the existential virus, the universal moral compass that maintains order in the new age, they face the ultimate test as they work to protect their worldviews.
"I hope readers will recognize that freedom is a gift," said Grydsuk. "If we continue to abuse it, and treat it as an instrument for political or personal gain, we will never live in harmony with each other or in balance with nature."
Readers will have to decide if the Biodome depicts a utopian or a dystopian future. Through an exploration of historical, philosophical, spiritual and scientific themes, the Age of Resolve unfolds to help individuals contemplate whether we, as a global society, might do better in following a prescribed moral compass in order to realize our full potential.
With a professional background in public policy, Grydsuk is familiar with the struggles people face on a daily basis, especially when it comes to mental health. She has seen first-hand the difficulty some people have in managing the challenges that arise when they stand behind their beliefs. The ultimate question for readers is whether humanity will ever escape the self-destruction of relative morality, or doom itself by repeating the past.
"Age of Resolve: The EV Chronicles"
By Ilene Grydsuk
http://www.ilenegrydsuk.com
ISBN: 9781663244772 (softcover); 9781663244796 (hardcover); 9781663244789 (electronic)
Available at iUniverse, Amazon, and Barnes & Noble
About the author
Ilene Grydsuk is a Postdoctoral Fellow with a research focus on the influence of biopsychosocial factors in persons with mental illness. She holds a Ph.D. in Public Policy and Administration specializing in health care. "Age of Resolve," her first installment in the EV Chronicles trilogy, was born of experiences in working with people struggling today. She is an Editor's Choice Award recipient for her debut novel. She finds inspiration from her three grown children, and writes from her farm in Southern Ontario.
For more information visit: https://www.iuniverse.com/en/bookstore/bookdetails/833719-age-of-resolve.