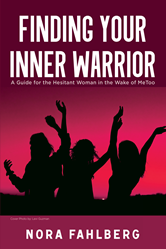 "It is my hope that this information will help speed your transformation to a confident and assertive woman, in touch with her inner fighting spirit and warrior self. If more of us stand up for ourselves, I believe we can start a ripple effect that will help other women and girls too."
ATLANTA (PRWEB) January 15, 2020
Lessons that a person grew up with shape the way they react to certain experiences, and one that is drilled into the minds of young girls is to be likable—often at their expense. This mindset mixed with "boys will be boys" creates a world where girls and women freeze in fear if they are harassed or assaulted by disrespectful individuals or groups. When it is over, they are left feeling that they were reduced to damaged goods and end up blaming themselves for the attack.
Dr. Nora Fahlberg used to work as a healthcare practitioner before an auto accident put her career on pause. Instead of letting the experience consume her, she shifted to the film industry while dabbling as a life sciences educator. She developed a love for public speaking and decided to put this skill to good use in a way that helped her community. In response to the #MeToo movement and how much it resonated with her, she began conducting talks on how people can find their inner strength to fight against sexual harassment and assault.
"A social researcher named Jackson Katz once took an audience survey. First, he asked the men what they did on a daily basis to avoid sexual assault. The response was that they didn't think about it. Then, he asked the women: their list was past thirty things when Katz stopped writing them down," the author explains the daily reality of the modern woman which drastically differs from what men experience. "Most of us are already thinking about these things. Unfortunately, we cannot afford to let down our guard. It's horrifically unfair, but life isn't fair, and we must work with the world as it is and not as we wish it to be."
The highlights of Dr. Nora Fahlberg's talks and her overall advocacy are compiled in her new book, Finding Your Inner Warrior: A Guide for the Hesitant Woman in the Wake of MeToo. It aims to help women overcome the victim mentality life throws at them and overhaul the mindset taught to them that requires them to remain passive. She doesn't hide the fact that it will be a difficult journey that comes with ups and downs, but the result will be a society where women and the good-natured men allied with them can stand up against the "creeps" of the population.
"It is my hope that this information will help speed your transformation to a confident and assertive woman, in touch with her inner fighting spirit and warrior self." Change has to start from somewhere in order to achieve results. Like with public speaking and other skills, conditioning oneself to deflect verbal and physical attacks takes a lot of mental preparation, practice, and—more importantly—support from like-minded allies and friends. "If more of us stand up for ourselves, I believe we can start a ripple effect that will help other women and girls, too. If creeps meet more resistance, they might think twice before trying again."