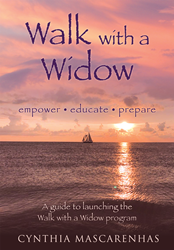 This book was written as a practical tool offering solutions to some very basic challenges a person encounters in dealing with a widow
WINTER GARDEN, Fla. (PRWEB) April 17, 2020
Author Cynthia Mascarenhas shares practical advice for those seeking to show their support for a widow or someone caring for a terminally ill spouse in Walk with a Widow. Empower. Educate. Prepare: A Guide to Launching the Walk with a Widow Program ($13.99, paperback, 9781630507336; $6.99, e-book, 9781630507343).
After witnessing such a horrific loss, it is difficult for family and friends to know how to help a loved one whose spouse has passed away. Speaking from experience as a widow herself, Mascarenhas walks those who are willing through a checklist of do's and don'ts, as well as financial and other practical matters that need to be dealt with.
"My own personal journey as a widow revealed to me that the church, family, and friends are ill-equipped for the task of showing support for a widow. They may want to make a difference but do not know how. This book was written as a practical tool offering solutions to some very basic challenges a person encounters in dealing with a widow," said Mascarenhas.
Cynthia Mascarenhas is a Registered Nurse and Independent Legal Nurse Consultant. She has served as a member of the Board of Directors of the Greater Orlando Chapter of Legal Nurse Consultants and on various committees for the American Association of Legal Nurse Consultants. Mascarenhas was widowed on February 4th, 2018 when she lost her husband of 29 years, Franz Mascarenhas, to a sudden heart attack.
###
Xulon Press, a division of Salem Media Group, is the world's largest Christian self-publisher, with more than 15,000 titles published to date. Walk with a Widow Empower. Educate. Prepare is available for purchase as a bundle that includes additional training resources Please contact 321-276-9590 or cmascarenhaslnc@gmail.com to place an order.