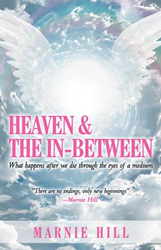 CALGARY, Alberta (PRWEB) November 20, 2019
The new book "Heaven and the In-Between: What Happens after We Die through the Eyes of a Medium" (published by Balboa Press AU) by Marnie Hill shares the author's knowledge and experiences regarding her encounters with the spirit world, the soul, and the importance of her walk with Jesus Christ.
The book gives insight to what happens after a person dies, the importance of life today and mediumship. The author personally gives the readers spiritual tools on how they can live a better life. She talks about forgiveness, prayer and even the different levels on the other side, which she calls the in-between.
"There is another life after this one and the one in heaven is eternal," Hill shares. "The dead have spoken and told (me) many things not only about heaven, but also how to live a better life while here on this earth."
The book is available for purchase on Amazon at https://www.amazon.com/Heaven-Between-Happens-Through-Medium-ebook/dp/B0813637P5.
"Heaven and the In-Between"
By Marnie Hill
Hardcover | 5.5 x 8.5in | 164 pages | ISBN 9781982237837
Softcover | 5.5 x 8.5in | 164 pages | ISBN 9781982237813
E-Book | 164 pages | ISBN 9781982237820
Available at Amazon and Barnes & Noble
About the Author
Marnie Hill is a Canadian medium, spirit healer and author. Since age 5, Hill has been connecting with the unseen worlds. Her ability to relay messages from the spirit world to the living brings peace to all who seek her services. Hill feels her calling in this life is to the living and the dead. She herself has overcome many losses within her life. She lost her mother at an early age to suicide, and her father when she was 17. She has endured the painful path of grief, soul healing, and even divorce. What got Hill through difficult times was her belief in heaven, God, the soul, and the knowing that death is simply a doorway into another world. "Heaven and the In-Between" is Hill's second book.