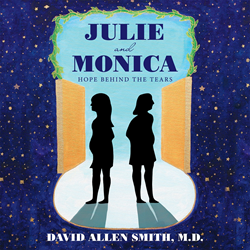 FORT WAYNE, Ind. (PRWEB) October 02, 2018
Author and surgeon David Allen Smith, M.D. has recently released his new book, "Julie and Monica: Hope Behind the Tears," a touching story about two women learning to live with the complications, consequences and life lessons of abortion and infertility.
When Julie, along with her baby Allison, encounter an emotional Monica in a mall, the two women share their pregnancy and birth stories. Julie shared with Monica her journey through infertility and Monica told her harrowing story of the circumstances and regret surrounding her abortion.
By sharing their stories with one another, both women find immense refuge and healing through God's grace, empowering them to overcome their negative emotions and discover hope and peace in motherhood.
Smith was inspired to write "Julie and Monica" after performing a life-changing medical procedure on a baby born 17 weeks early. "I was operating on a barely viable premature baby and I noticed the child squirming in pain," Smith said. "I was trained to think that premature babies didn't feel pain and that anesthesia was not necessary. It caused me to rethink everything I'd ever learned."
Though the book is a work of fiction, it is inspired by true stories of women who have experienced abortion and infertility. "They were so gracious to tell us the truth about the painful experiences of losing a baby, but how pregnancy loss can affect us long after our loved ones are gone. They show us how to find hope behind our tears," Smith said.
"Julie and Monica" will inspire and offer hope to those who have experienced or are currently going through infertility or pressure to terminate a pregnancy.
"Julie and Monica: Hope Behind the Tears"
By David Allen Smith, M.D.
ISBN: 978-1973604853 (softcover); 978-1973604860 (electronic)
Available at the Westbow Press store, Amazon and Barnes & Noble
About the author
David Allen Smith, M.D. is a busy pediatric surgeon in Fort Wayne, Ind. and serves as fellow of the American College of Surgeons. Smith also serves on the Diplomate American Board of Surgery and holds certifications in surgery and pediatric surgery. He received his bachelor's degree from Bethel College in Mishawaka, Indiana and his medical degree from Indiana University School of Medicine in Indianapolis. He lives with his wife Carolyn who helps run his practice where he has cared for thousands of children during his more than 30 years as a pediatric surgeon. He considers each and every one of his patients to be like his own children. His 'kids' are very special and he loves them all. To learn more about Smith and his book, please visit http://www.juileandmonicahope.com.
Contact:
LAVIDGE – Phoenix
Kalin Thomas
480-648-7540
kthomas(at)lavidge(dot)com
###