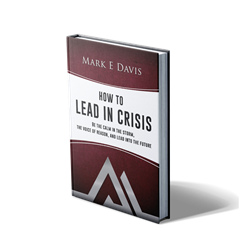 This book is the Mental Vaccine for the New Worry Culture!
LAS VEGAS (PRWEB) April 24, 2020
"Is worry destroying more lives than the virus?" Asks Davis, author of How to Lead in Crisis. "I believe that it is. The constant bombardment from the media and frightened neighbors is creating chronic stress in millions of people, but you can't tell someone, 'just stop worrying!' They need to be actively involved in activities that are rewarding and lead to a brighter future." Davis believes his book is that roadmap.
There is a constant need for all media outlets to find new ways to report on the crisis. This book project is a captivating approach to a topic that is in desperate need for a positive way to discuss an issue that is getting old.
The chapters for the book include:
1. Be the calm in the storm
2. How to be the voice of reason
3. Getting ahead of the storm
4. Being resourceful in times of crisis
5. Be the leader your people need
6. Making good decisions under pressure
7. Confronting attitudes of fear
8. Lead with a vision of the other side of the crisis
9. Leading your community
Mark Edward Davis is actively seeking opportunities to engage in this conversation as an expert guest on Podcasts and talk shows.
Mark Edward Davis LLC is a digital publishing company specializing in life coaching programs for men including TotalMan.club, and the upcoming men's magazine site AuthenticMan.com.
Contact Mark Edward Davis directly for interviews at:
Mark@MarkEdwardDavis.com
(702) 659-9000 or (702) 509-7590