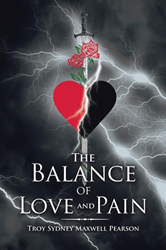 NEW SOUTH WALES, Australia (PRWEB) May 22, 2019
Poet and songwriter Troy Sydney Maxwell Pearson believes that love and pain exist on the same spectrum, but one must find the balance in between. Drawing inspiration from his own triumphs and defeats in finding that equilibrium in life, he reveals to readers some of life's glories and tragedies told in verses and rhymes.
In his poetic anthology, "The Balance of Love and Pain" (published by Balboa Press AU), Pearson paints life in varied colors — dark, light and somewhere in between. The book springs from life and its magic, portraying the troubles of the world but also its beauty. Each poem, although sometimes sad, is also one of hope which can be found through the love of others and love of self.
The book encapsulates simple words with as much power as possible, telling experiences lived in a cosmic scale. It is a book about finding happiness after living through hell, of suffering the pain of loss and healing through power of love.
"This book will take you to many, many places... from the dawn of time to the stars of the night sky, then deep inside where a child cries... love and the strength it is, and the pain of depression," Pearson shares. "My hope is that people draw warmth and energy from my poetry and the resolution of if your half way through hell you have got to keep going cause heaven is on the other side."
To purchase a copy of the book, visit https://www.balboapress.com/en-gb/bookstore/bookdetails/789654-The-Balance-of-Love-and-Pain.
"The Balance of Love and Pain"
By Troy Sydney Maxwell Pearson
Softcover | 6 x 9in | 308 pages | ISBN 9781504317078
E-Book | 308 pages | ISBN 9781504317085
Available at Amazon and Barnes & Noble
About the Author
Troy Sydney Maxwell Pearson grew up on the outskirts of Sydney, Australia, with his mother and grandmother. A tradesman by 21, Pearson has a strong work ethic but is burdened by the pain of schizophrenia, which is now a big part of his life. Writing is a tool he uses to express feelings and emotions felt as they are drawn through him. Pearson has gained recognition in several fields of study and plans on producing music in the future. He lives by the mantra, "One step at a time."