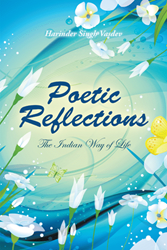 GURUGRAM, India (PRWEB) December 20, 2018
Harinder Singh Vasdev marks his entry into the world of poetry with the release of "Poetic Reflections: The Indian Way of Life" (published by Partridge India), a compendium of poems covering various aspects of life.
Readers who would like to purchase and learn more about the book may visit https://www.amazon.com/Poetic-Reflections-Indian-Way-Life/dp/1543703054.
"From childhood to manhood, we learn how to cope with life. Adulthood is spent in earning a living and raising a family. By the time old age creeps in, one realizes that he has just let life pass him by without understanding its true meaning," the author and poet ponders. "These poems are the journey of the poet who tries to understand life and man's obligations toward society."
Vasdev believes that mankind has plunged into a materialistic world – moving away from their roots, forgetting one's obligations toward their fellowmen and the society. Hence, his poems are an attempt to lead the reader's thoughts to spirituality and humanity. They also touch upon relationships in a family and society in general, and how people need to broaden their outlook to include the less fortunate in their thoughts and deeds.
Drawing inspiration from personal experiences and acts of commission or omission, the author invites readers to immerse on a poetic reflection of the Indian way of life.
"Life has its ups and downs. Man needs some solace and guidance at some point in life. These poems hope to provide both," Vasdev adds.
"Poetic Reflections: The Indian Way of Life"
By Harinder Singh Vasdev
Softcover | 6 x 9in | 226 pages | ISBN 9781543703054
E-Book | 226 pages | ISBN 9781543703047
Available at Amazon and Barnes & Noble
About the Author
Harinder Singh Vasdev was born in Abbotabad (now in Pakistan) on Feb. 20, 1946. He had his basic education in Iringa and Dar es Salaam (Tanzania) where his parents moved after partition. He graduated in 1967 from Hans Raj College (Delhi University) before joining government service in 1970. He took premature retirement in 1991 to pursue a private career. He is married to Jasbir Kaur, with whom he has two children, Harvinder and Preeti, married to Vishruti and Indranil Ganguly, respectively. He currently resides in Gurugram (Haryana, India) with his wife and son. The author can be contacted at Vasdevharinder(at)gmail(dot)com.
Partridge India, a Penguin company, is a leading provider of book publishing, marketing, and bookselling services for authors in India, all priced appropriately for the Indian market. Committed to providing the highest level of customer service, Partridge India assigns each author personal publishing and marketing consultants who provide guidance throughout the process. Partridge India shares its headquarters with Penguin Books India in New Delhi. For more information or to publish a book, visit http://www.partridgepublishing.com/india or call 000.800.10062.62. For the latest, follow @PartridgeIndia on Twitter.