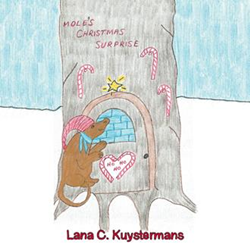 REDCLIFF, Alberta (PRWEB) November 26, 2019
Published author Lana C. Kuystermans marks her return in the literary limelight with the release of "Mole's Christmas Surprise" (published by AuthorHouse). Spreading the spirit of Yuletide season, this illustrated children's book narrates the story of a little forest mole who is an expectant receiver of Christmas goodness.
Told in poetic verses and lines, "Mole's Christmas Surprise" highlights the joy of gift-giving and receiving. It aims to fill the hearts of readers with warmth and spread the love of Christmas throughout the world, even to the animal kingdom.
A snippet from the book reads:
Quick as a wink, through the snow he did run.
Oh buying Christmas candy was so much fun!
Soon Santa would come to his home you see,
And leave a present for the mole in a tree.
"This is an old fashioned book of love, gentleness, and Christmas magic that all children, adults and animals can cherish while imagining for themselves something sweet and longed for in their own lives," Kuystermans describes. "Even if it's only once a year, remember the gift of giving and the gift of receiving! The magic of love to be shared around our families, friends and, yes, strangers, during the most beautiful time of the year: Christmastime."
To purchase a copy of the book, visit https://www.authorhouse.com/en/bookstore/bookdetails/801629-moles-christmas-surprise.
"Mole's Christmas Surprise"
By Lana C. Kuystermans
Softcover | 8.5 x 8.5in | 28 pages | ISBN 9781728325996
E-Book | 28 pages | ISBN 9781728326009
Available at Amazon and Barnes & Noble
About the Author
In 1996, Lana C. Kuystermans started writing poems which eventually became her first book published by AuthorHouse Publishing. It is called "Soft Petal Poems with Heartfelt Love." A short time later, she discovered that she wanted to write children's books, which led her to the publication of "A Little House on a Great Big Hill" and "Supernatural Flying Monkeys and Dancing Chickens." This was then followed by "A Hat Full of Miracles," a book of miracles based on the testimonies from the people of Medicine Hat, Alta, Canada; and "Triumphant Innocence," a love story that is full of youthful humor and real life situations that readers of all ages can identify with. Her latest publication, "Mole's Christmas Surprise," is a children's storybook that takes a closer look into a simple example of fulfilled Christmas joy.