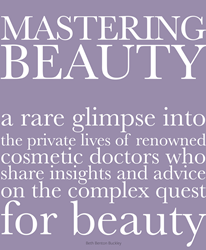 "Congratulations to Beth Buckley for tackling this fascinating field in such a unique and educational way; Mastering Beauty is a great contribution." —Dr. Charles Thorne
PALM BEACH, Fla. (PRWEB) October 17, 2018
Publisher benton buckley books announces the release of the hardcover book Mastering Beauty. The illuminating 220-page book features wisdom and inspiration from 15 world-renowned doctors of aesthetic medicine, who are uniquely introduced in both professional and personal contexts.
The book's environmental portraiture is exquisite. More than 75 vibrant color photographs capture the doctors doing what they love most—practicing medicine, spending time with their families, and engaging in a variety of leisure activities. The editorial is eloquent, presenting personal anecdotes, complex philosophies, and medical opinions in an approachable manner that appeals to readers of varying levels of interest and expertise. Words of wisdom leap off the pages to boldly anchor each chapter.
Contributing doctors include: Ashley Gordon, James Grotting, Clyde Ishii, John Koutsoyiannis, Charles Lee, Sheila Nazarian, Anna Petropoulos, Tracy Pfeifer, Marta Rendon, Adam Rubinstein, Robyn Siperstein-Paul, Armando Soto, Charles Thorne, Jennifer Walden, and Richard Warren. Many of these seasoned professionals are professors, leaders of industry organizations, researchers, authors of seminal textbooks and papers, international lecturers, inventors, television and radio personalities, philanthropists, and self-proprietors. Three of them have been elected president to the esteemed American Society for Aesthetic Plastic Surgery.
Impressive accomplishments aside, they are, above all, artists who utilize unique methods and mediums—surgical, noninvasive, or a combination—to safely and effectively achieve their patients' goals.
The personal lives of these talented men and women are in many ways as diverse as their professional opinions and cosmetic specialties. As you explore the inspired pages of Mastering Beauty, you'll appreciate multiple perspectives on a range of important topics, including how to choose a doctor, the benefits and drawbacks of surgical and nonsurgical procedures, tips for staying youthful, social media's place in the beauty industry, and what the future may hold for the field of cosmetic medicine. Delve into specific recommendations and cautionary tales for popular procedures for the skin, face, breasts, body, and butt. Enjoy success stories of the doctors' most memorable patients. And be thoroughly entertained by anecdotes of outrageous requests—erasing fingerprints, removing earlobes, and making someone look exactly like a certain celebrity.
Learn about the doctors' heritage, families, world travels, interests, and what excites them. Find out who flocks to water for surfing, sailing, fishing, and swimming; who's the mother of twins; who can't get enough of airplanes and classic cars; who coaches his son's baseball team; and even who rides a unicycle. Art, classical architecture, music, gardening, interior design, food, wine, fashion—the list of passions goes on and on. Discover how these cultural interests, experiences, and worldviews weave their way into the doctors' fascinating philosophies on beauty.
The featured doctors represent a broad geography, from the tropical Pacific Islands to scenic California and British Columbia, down to vibrant Texas and Alabama, and over to the coastal states of Massachusetts, New York, and Florida. Highly regarded, these doctors attract patients from all over the world—royalty, businesspeople, celebrities, and ordinary people alike. Whether you're simply fascinated by the idea of mastering beauty, an industry professional who follows the careers of these thought-leaders, interested in subtly enhancing your natural beauty, or wish to undergo a dramatic transformation of body and mind, Mastering Beauty has plenty of inspiration for navigating your way through the ever-changing world of cosmetic medicine.