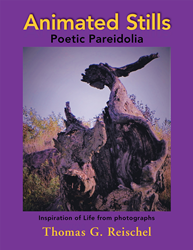 "[Reischel's] most innovative and inspired collection to date. The creativity of the photographs and their corresponding poems is compelling." - The US Review
MINNEAPOLIS (PRWEB) February 11, 2020
Pareidolia is the psychological tendency to interpret a vague stimulus as something meaningful—like seeing shapes in clouds or hidden messages in movies—and photographer and author Thomas G. Reischel's new book of poetry, "Animated Stills: Poetic Pareidolia" brilliantly captures and explores that very phenomenon.
In this stunning collection, Reischel invites readers to see the world of the Twin Cities area through his eyes, bringing his images to life by "animating" them with his words and helping them take on a life and story of his own. His poems and photos come together to create a vivid picture of how Reischel perceives comedy, evil, the environment, history, mythology and religion.
Reischel also gives the reader detailed explanations of the meters and poem styles he employs, helping readers understand not only his poetry but the art and formulaic structure of poetry in general. Reischel's book will entertain and educate readers, helping them better appreciate poetry by learning more about how poems are formulated.
"I love to help readers see the little things around them," Reischel says. "I hope my book inspires people to take part in my pareidolia and see what I see in everyday life around me."
The US Review lauds Reischel's latest collection, describing it as his, "most innovative and inspired collection to date. The creativity of the photographs and their corresponding poems is compelling… The poet's ability, photographic competence, and love of the varied forms come through fully and are aptly displayed for the reader."
Capturing the art of poetry through psychology and photography, "Animated Stills" is sure to inspire readers to notice the beauty, sadness and humor of the world and its nuances.
"Animated Stills: Poetic Pareidolia"
By Thomas G. Reischel
ISBN: 9781796061260 (softcover); 9781796061277 (hardcover)
Available at Xlibris, Amazon and Barnes & Noble
About the author
Thomas G. Reischel's pictures and tone carry a Midwestern sensibility and leaning, highlighting beauty in nature. He has been writing poetry since he was a freshman in high school. He is a graduate of the University of Minnesota with a bachelor's degree in business. In 2015, he judged the poetry for the Voice of Kansas Poetry Contest. He has been a top ranked poet on the FanStory site since 2011, where he is known as the "Master of Poetic Forms"; there he has over 2,000 poems published. He has over 900 photographs published on the Capture Minnesota website as well as an acclaimed photograph in the 2012 One Life Photo Journal. His poem, "Enlightenment from the Merry-Go-Round" was published in Preston McWorter's book, "Seeds of Enlightened Society." Reischel has published other works of poetry; he has the "Picture Poems" series which includes three volumes as well as a 4th book, "Take Flight, The Sonnets." He resides with his wife of over 40 years in St. Paul, Minnesota.
Contact:
LAVIDGE – Phoenix
Lindsey Gobel
317-435-2116
lgobel(at)lavidge(dot)com
###