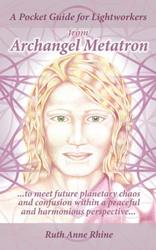 ASHLAND, Ore. (PRWEB) January 14, 2019
Ruth Anne Rhine's debut mind, body and spirit book, "A Pocket Guide for Lightworkers from Archangel Metatron: . . . To Meet Future Planetary Chaos and Confusion Within a Peaceful and Harmonious Perspective . . ." (published by Balboa Press), presents information from Archangel Metatron on how to navigate the future years of potential global chaos, without suffering the heart-wrenching pain experienced by others who are lost amid this turmoil. The book is available for purchase at: https://www.amazon.com/Pocket-Guide-Lightworkers-Archangel-Metatron-ebook/dp/B07KD1QT8M.
Rhine believes that it is possible experience a peaceful and loving reality while being compassionate to those in need by understanding, "the current development of planetary confusion." To help, the author shares words from Archangel Metatron to assist and guide those people to assure them of their own success in navigating the tides of change upon the horizon. The book includes numerous discourses on different subject matters that address various fears and doubts people might have.
"Should a reader find the contents of this book to be an avenue of growth and elevated perspective of what is transpiring on Earth now, then the reader will know that All Is Well in that the unfoldment of chaotic events is actually an expression of the imbalances existing at this time," Rhine says. "And through the acceptance of this current state, arrived at through the free will choice of humankind, the individual reader has the opportunity to make a difference by intending to express their caring and compassion in various ways."
"A Pocket Guide for Lightworkers from Archangel Metatron"
By Ruth Anne Rhine
Softcover | 5 x 8 in | 248 pages | ISBN 9781982215354
E-Book | 248pages | ISBN 9781982215460
Available at Amazon and Barnes & Noble
About the Author
Ruth Anne Rhine is a channeler and healer working with Archangel Metatron offering guidance and healing through her website https://www.metatron.love. Her book is a work of devotion in service to the many who shall read it. Ruth Anne has many years of experience in channeling and the practice of healing modalities. She is also a digital and traditional artist who created her book's cover design.