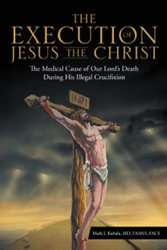 BEAUMONT, Texas (PRWEB) March 13, 2019
For 70 years, Christians have been taught that Jesus died on the cross from asphyxiation — unable to exhale because of the hanging position. According to author and neurosurgeon Mark J. Kubala, MD, FAANS, FACS, this theory is not based on sound medical science, and presents a different explanation.
In his new book, "The Execution of Jesus the Christ: The Medical Cause of Our Lord's Death During His Illegal Crucifixion" (published by WestBow Press), Kubala makes the case that blood loss is what ultimately led to the death of Jesus. Written in non-technical language, Kubala draws from Scripture and science to describe the painful changes that took place in Christ's body as he was dying from loss of blood.
Kubala hopes these medical revelations will help to educate Christians and non-Christians alike. He says, "Believers and followers of Jesus Christ will find this book inspirational. Nonbelievers will find the historical events discuss informative."
To know more and purchase the book, readers can visit https://www.amazon.ca/Execution-Jesus-Christ-Medical-Crucifixion/dp/1512773921.
"The Execution of Jesus the Christ"
By Mark J. Kubala, MD, FAANS, FACS
Hardcover | 6 x 9 in | 150 pages | ISBN 9781512773927
Softcover | 6 x 9 in | 150 pages | ISBN 9781512773934
E-Book | 150 pages | ISBN 9781512773941
Audio | 150 pages | ISBN 9781973615064
Available at Amazon and Barnes & Noble
About the Author
Mark J Kubala, MD, FAANS, FACS, is a Phi Beta Kappa graduate of the University of Texas. He did his neurosurgical training at Baylor University, Houston, and the Mayo Clinic. Since 1966, he has been a private practitioner of neurological surgery in Beaumont, Texas. More information is available at: http://www.theexecutionofjesusthechrist.com.