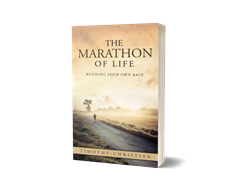 THE MARATHON OF LIFE: Running Your Own Race is a 'blueprint for living' that you can use to more quickly and more consciously create yourself and all that's divinely waiting for you -- Author Timothy-Christian
LOS ANGELES (PRWEB) June 26, 2019
The Marathon of Life is the spiritual journey that we all take on our own as individuals. It is the race that we all run each day with God towards destiny. Some of us are aware of the adventure early on, others reawaken to it later, but we all have opportunities throughout our lifetime to be transformed from what we thought we were into all that we know we are and will become again. In his new book, The Marathon Of Life: Running Your Own Race, author Timothy-Christian guides readers through how to run their own best race and how love is what will empower them to do so.
It is Timothy-Christian's hope that, by the end of the book, readers will go on to rediscover the "LoveChampion" that's inside all of us. LoveChampions are people who surrender to their purpose and consciously create themselves at the highest levels of spiritual consciousness. They learn from all they go through and have fun whenever possible. Whatever it takes to win their championships of love, LoveChampions are willing to endure it. They never give up. And when LoveChampions get knocked down by life, they always seem to get back up again to have faith in all that they're still believing in.
The starting point of the conscious creation process for all LoveChampions is vibration. They understand the relationship between thoughts and feelings. They know how to manifest positive outcomes. And they do their best to marry the soul, mind, heart, and body together to intentionally live into all that they are and all that they love. They channel the energy they're generating into all they're dreaming of. They stay mindful of what they are creating and all that needs to be developed in accordance. And they're willing to organize around whatever allows for that positivity.
The second step of the conscious creation process is frequency. Frequency is a progression in concentrated energy that occurs each time you hold a certain vibration for a sustained amount of time. The higher your vibrational frequency, the higher the consciousness you can tap into when it comes to what you love and what you're organizing around.
The third step of the conscious creation process is energy. If vibration is all about reflecting on the love that's within yourself and establishing positive concentrated energy flows through all that you're visualizing, and frequency is all about planning and organizing around those love vibrations as you hold them, then energy is about channeling all that's being transformed by those frequencies. It's about allowing those things to direct your actions into all that's being created and spiritually executed against― so that it gets brought to life exactly as it was imagined, felt, and envisioned.
Timothy-Christian says, "The Marathon Of Life: Running Your Own Race is a 'blueprint for living' that you can use to more quickly and more consciously create yourself and all that's divinely waiting for you. A hands-on guide to becoming a LoveChampion, rediscovering purpose, and more fully living into all that dreams are made of." He adds, "At least that's what it's been for me anyway. And that is what I wish for all of my readers as well. Love and the power to personify it a little more each day. Blessings."
Timothy-Christian
Timothy-Christian is an actor, entrepreneur, and life coach. He is also the author of several books and founder of LoveChampions LLC, an organization dedicated to helping individuals consciously create themselves daily over time and live into all that love makes possible. After spending years straddling the corporate and entertainment industries as an engineer at NBCUniversal and actor, Timothy began to see a direct correlation between what powers businesses on to victory and how individuals could apply those very same concepts within their own projects to achieve their own championships. He discovered that creativity is something inherent within each of us, and that to fully unleash that gift, it must be balanced out with a little bit of structure and a whole lot of love! This book is the foundational theory behind that revelation and other core philosophies that make up the LoveChampions® movement.
For more information, please visit https://www.amazon.com/MARATHON-LIFE-Running-Your-Race-ebook/dp/B07SPLRNDW