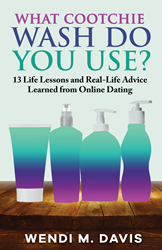 Trust me… there are real, honorable men still out there. Do you have to kiss a lot of frogs to find him? Yes. Is it even worth it? Absolutely… so don't give up too soon!
GROVE CITY, Ohio (PRWEB) February 04, 2021
This is a funny, yet insightful book for women. It is full of useful information and something that women across the world will be able to read, cherish, and giggle about. The advice and life experiences are coming from a mature woman who has navigated the online dating world and succeed. The insights in the book are realistic and do not portray a rosy world where your partner or yourself need to be perfect in order to love each other. (editorial excerpt)
The author has divided the online dating journey into easy-to-read, relatable chapters. This new book features 13 life lessons that were learned from online dating and is an invaluable treasure trove of practical, real-life advice based on the author's own online dating experiences! It is jam-packed with self-guided exercises that helps you navigate your own internal exploration to uncover what your personal brand of cootchie wash consists of and how to attract the perfect partner. You'll hear sage advice from someone who has been there and conquered that!
Wendi M. Davis is a busy wife, mother of two teenage boys, author, YouTube creator and works full-time as a non-profit executive. Wendi and her family live in a suburb outside of Columbus, Ohio. When she isn't otherwise actively engaged in the activities that she loves, you can find her traveling with her family.
The book is available on Amazon.com. Be sure to visit https://www.wendidavis.com to sign up for her mailing list. Wendi Davis is available for interviews.