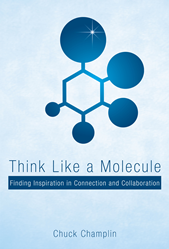 "Each of us has the power to generate new ideas and increase commitment to rational thought. We need to foster our individual and collective creativity for the good of all."
YUBA CITY, Calif. (PRWEB) September 09, 2019
Author Chuck Champlin recently released "Think Like a Molecule: Finding Inspiration in Connection and Collaboration," a motivational book that invites readers to embrace the infinite potential of their ideas. Using a molecule, the smallest unit of a substance, as an example, Champlin illustrates how even the smallest ideas can create impactful change.
To think like a molecule is to be acutely aware of the innumerable molecular assemblies that had to occur over millions of years to lead to the existence of the human mind. By encouraging readers to visualize how the universe has come together through these synergistic bonds, Champlin hopes to instill them with a better understanding of the vast opportunities for creation and growth as well as their capacity to help improve the world.
"Our human brain power is the greatest force for good in the world," Champlin said. "Each of us has the power to generate new ideas and increase commitment to rational thought. We need to foster our individual and collective creativity for the good of all."
Aimed at thinkers of all ages and backgrounds, "Think Like a Molecule" inspires readers to appreciate their place in the world, harness the power of their minds and put forth their ideas into action.
"Think Like a Molecule: Finding Inspiration in Connection and Collaboration"
By Chuck Champlin
ISBN: 9781480865624 (softcover); 9781480865631 (hardcover); 9781480865617 (electronic)
Available from Amazon, Barnes & Noble and Archway Publishing
About the author
Chuck Champlin is a writer and journalist in the worlds of entertainment, film and science. He earned a bachelor's degree in English from the University of California, Berkeley. In his role as a corporate communications executive for a leading diversified international family entertainment and media enterprise, he helped stage a worldwide Children's Summit at Disneyland Paris. Prior to that, he was a bicycle inventor, rock musician, singer and songwriter, and a leader of Toastmasters and Optimist clubs. He is married with four children and lives in Yuba City, California.
Review Copies & Interview Requests:
LAVIDGE – Phoenix
Leslie Standridge
480-998-2600 x 586
lstandridge(at)lavidge(dot)com