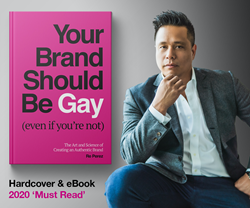 Branding is one of the hottest topics in the business world. It's also one of the most misunderstood.
AUSTIN, Texas (PRWEB) March 18, 2020
Your Brand Should Be Gay (even if you're not) has a racy title, but that isn't the reason it secured bestseller status in several marketing categories. In the book, author Re Perez poses a simple but often intangible question; what is brand authenticity, and can it hurt profit?
Perez delivers heavily opinionated answers based on his twenty-year career in branding. He faced discrimination in the workplace multiple times throughout his career, which has given Perez a unique perspective on what businesses are doing wrong when it comes the perception and why it matters. His personal experiences, coupled with emotional and data-driven case studies, provide unique insight into the short-term future of global brand strategies.
"Branding is one of the hottest topics in the business world. It's also one of the most misunderstood," says Perez. He has spoken on the topic on stages across the county, most recently at Austin's Social Media Week conference. "A brand is not your logo, your tagline, or your new website. Your brand is a desired perception that you want to have in the marketplace. Technically, you don't own your brand. It resides in the minds of the people that you're communicating to."
Millennials are demanding that companies stand by their brand or they will find a company that does. Employee turnover is killing profits for even the best run companies. The stock market is causing investors to pull back from companies they've been loyal too for decades. Branding may be the most important business discussion of this quarter. "So, how do you get your brand to stand out?" asks Perez. "Speak directly to the people that you're targeting and create the perception that you want them to have – one that appeals to them and that resonates to them."
ABOUT RE PEREZ
Re Perez is a seasoned Brand Consultant for Fortune 500 companies and has worked for several notable consulting firms including Interbrand and Siegel+Gale. Since 2011, his "brand transformation agency" Branding For The People has helped brands optimize their impact by authentically connecting with their target audiences.