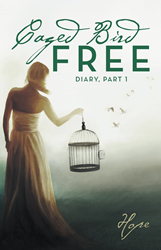 "My story unravels, through my thoughts and afterthoughts, until a few months after I came out of jail, this experience, while the worst, is also the best, as I am now who I am because of it"
CHARLOTTE, N.C. (PRWEB) February 06, 2023
In 2013, the author simply known as "Hope" had her future plans ironed out, without any wrinkles. She was in Lebanon, pursuing her degree in education, had a great job as a teaching intern, and her social life was as bright as ever. On May 11th, Hope would, unfortunately, find out that the future holds no promises.
"Caged Free Bird: Diary Part 1," is Hope's horrifying documentation of her experience as an innocent woman, wrongfully jailed in Lebanon, accused of dealing drugs.
"I went through a traumatic experience, as an innocent person wrongfully imprisoned, Hope said. "It's affected my life for years, until today. I'm a fighter. That's what's gotten me through it and I'm not stopping now."
Hope invites her readers to see the truth about the female prison system in the Middle East, through the eyes of a falsely accused woman. With eight months of jail time to prove her innocence, she documents her experiences as she meets innocent and guilty women of all ages and backgrounds.
"My story unravels, through my thoughts and afterthoughts, until a few months after I came out of jail," Hope said. "This experience, while the worst, is also the best, as I am now who I am because of it."
In her book, Hope describes her mental health journey, from how she was wrongly treated and how she persevered to rebuild her life.
In May 2023, Hope will graduate with her master's degree in clinical psychology, to pursue a career helping rehabilitate others. She plans to start her career in Lebanon.
"Caged Free Bird: Diary Part 1"
By Hope
ISBN: ISBN 9781665732666; 9781665732659 (electronic) Available at Archway, Amazon and Barnes & Noble
About the author
Hope is pursuing her degree in forensic psychology after her experience in Lebanon, and her passion is growing daily to help others. Although she has moved around the world, from Dubai to the U.S., Hope is currently exploring the city of Charlotte, N.C. With her cat, Sylvester, whom she rescued when she found out her verdict seven years ago, Hope is now learning and developing psychological theories to adapt and give back to the community. She is currently pursuing her M.Ed. in Clinical Psychology at Winthrop University and will graduate in May 2023. To learn more, please visit https://www.archwaypublishing.com/en/bookstore/bookdetails/842127-caged-free-bird.