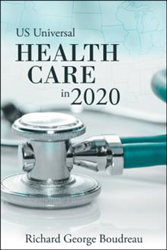 MARINA DEL REY, Calif. (PRWEB) November 12, 2019
Richard George Boudreau examines the United States health care system, how it compares to other countries, and proposed reforms to make health care affordable and accessible in his new book, "US Universal Health Care in 2020" (published by Archway Publishing).
Boudreau provides comprehensive review of U.S. health care history, current dilemmas, and projection for future public policy remedies. He explains how he sees health care has spiraled out of control, rendering the most vulnerable citizens of the U.S. in need new legislation addressing the issue. The author discusses how he thinks insurance companies shifted from being charitable endeavors to for-profit business centers. Boudreau also addresses how individual states have approached health care reform and how various presidential candidates propose to ease the problems surrounding health care.
"We are in a health care crisis in the US and need to deal with it – new implemented public policy mandates it," Boudreau states, adding, "Everyone requires health care and circumstances in citizens' lives may change from available affordable health care to economically challenged times and lack of access."
"US Universal Health Care in 2020" is available for purchase online on Amazon at: https://www.amazon.com/Us-Universal-Health-Care-2020/dp/1480883263.
"US Universal Health Care in 2020"
By Richard George Boudreau
Hardcover | 6 x 9 in | 214 pages | ISBN 9781480883253
Softcover | 6 x 9 in | 214 pages | ISBN 9781480883260
E-Book | 214 pages | ISBN 9781480883277
Available at Amazon and Barnes & Noble
About the Author
Richard George Boudreau is a proven leader who has enjoyed success as a maxillofacial surgeon, attorney, forensic expert, and bioethicist. He has earned numerous academic credentials, including a Bachelor of Science, a Master of Arts, a Master of Business Administration, Doctor of Dental Surgery, Doctor of Medicine, Juris Doctor, Doctor of Philosophy, Doctor of Psychology, holds several fellowships, and is on the faculties of Loyola Marymount University Bioethics Institute and the UCLA Department of Oral Maxillofacial Surgery. Boudreau is a regular bioethics contributor for several newspapers and magazines. He is also the author of "Bioethics Perspective of the Feasibility and Implementation of an Existential Psychoanalytic Praxis Addressing End-of-Life Care in the Elderly" and "Incorporating Bioethics Education into School Curriculums."