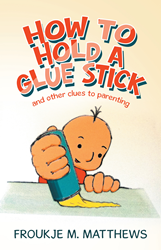 "Paying attention to a little child especially after s/he becomes mobile, may be tiring," said Matthews. "But, if the effort is made, the rewards are unlike anything else, not in material terms, but in love and affection, hopefully for a lifetime"
VICTOR HARBOR, South Australia (PRWEB) January 09, 2023
A teacher and playgroup facilitator, Froukje Matthews, suggests that by understanding how children adapt to the environments they are born into, those responsible for their development can facilitate effective growth. Two key behaviors may also assist healthy development – demonstrating what one expects of a child and using brief, clear statements in a friendly voice.
In "How to Hold a Glue Stick and Other Clues to Parenting," Matthews provides a practical guide to raising babies into toddlers and toddlers into children who are perhaps more well-behaved and possibly easier to teach without them potentially losing their individuality.
"After the COVID pandemic began, many parents decided to home-school their children," Matthews said. "I wanted these parents and any other educators to have a simple primer about how to help children learn about the world around them with less frustration and stress, creating a space for trust and mindful interaction."
After 30 years as a Montessori preschool teacher and playgroup facilitator, Matthews has plenty of experience to share with her readers. Her stories and insight are broken into specific chapters which do not need to be read in order. Rather, the book is organized as a reference guide, which may help caregivers find the information they need quickly.
"Paying attention to a little child especially after s/he becomes mobile, may be tiring," said Matthews. "But, if the effort is made, the rewards are unlike anything else, not in material terms, but in love and affection, hopefully for a lifetime"
"How to Hold a Glue Stick and Other Clues to Parenting"
By Froukje Matthews
ISBN: 9781982295561 (softcover)
Available at Balboa Press, Amazon and Barnes & Noble
About the author
Froukje Matthews spent 30 years as a Montessori preschool teacher and playgroup facilitator. She holds a teaching diploma from Bergen Pedagogische Akademie in the Netherlands, a Montessori Advanced Teaching Diploma from the Montessori World Educational Institute, an advanced diploma in Early Childhood Education from the Queensland University of Technology, and a TESOL certificate from Oxford House in Barcelona, Spain. After purchasing a nearby farm with an old shearing shed, Matthews' husband transformed the shed into a learning-friendly cottage where she set up her own Montessori playgroup and preschool. She is now retired and lives in South Australia with her husband. To learn more, please visit https://www.balboapress.com/en-gb/bookstore/bookdetails/842424-how-to-hold-a-glue-stick.