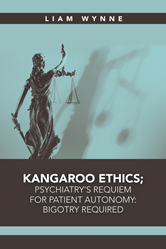 PHOENIX (PRWEB) March 02, 2020
Author Liam Wynne captures a real-life scenario in his ethical analysis, "Kangaroo Ethics; Psychiatry's Requiem for Patient Autonomy: Bigotry Required," with a thorough review of the faults of a limited understanding of medical ethics that represents Psychiatry's position today. Wynne's case notes will allow readers to experience the story of Doctor Averill and Ms. Clayton, a Psychiatrist and ex-patient, who went through adversities that raised questions regarding whether Psychiatry allows room for people to consider that their spirituality may inform them that they are in the presence of the person to whom they are intended to be within this lifetime. It further defines the differences between what became a prosecutorial, legal set of ethics and the medical ethics the Law overlooked.
"Kangaroo Ethics" is a detailed description of the harrowing path that Dr. Averill and Ms. Clayton navigated during a process that systematically ignored facts, in order to affect an outcome. The tone of the position "Once a patient, always a patient" is addressed using a time-honored pattern of formal medical ethics review.
"The key message of the book is that Psychiatry has adopted a reactionary stance regarding their assumption that it is within their power to dictate that once you are a patient, you may be dismissed as incompetent, irrelevant and immaterial to a determination of whether you are allowed to follow what your spiritual understanding and devotion tells you," said Wynne. "So much so, that it is understandable that a legal system must be enabled to railroad a decision, for the sake of appearing to protect the public."
"Kangaroo Ethics" will relate to individuals who have been in therapy, who intend to seek therapy, to professional students and educators in ethics, as well as people interested in the miscarriage of justice. By the end of this story, readers will discover something they did not already know.
"Kangaroo Ethics; Psychiatry's Requiem for Patient Autonomy: Bigotry Required"
By Liam Wynne
ISBN: 9781684718009 (Paperback)
Available through Amazon, Barnes & Noble, Kobo and Lulu
About the Author
Liam Wynne has been appointed Assistant Professor of Psychiatry at United States and International Universities. He has coordinated psychiatry education for family practice residents, psychotherapy instruction and education for psychiatric residents, medical students and psychiatric nurse practitioners.
General Inquiries:
LAVIDGE – Phoenix
gbywater@lavidge.com